Thousands of HMRC staff strike over job cuts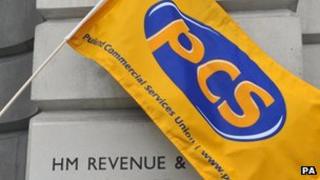 Thousands of HM Revenue and Customs staff have gone on strike, as part of a wave of industrial action being staged by civil servants over job cuts.
Workers from the Public and Commercial Services Union (PCS) took part in a half-day walkout, coinciding with the start of the new tax year.
The PCS began a three-month campaign of protest over pay, jobs and conditions on 20 March - the day of the Budget.
Staff at government departments, courts and museums walked out on Friday.
However, another 24-hour strike planned for Monday at the Home Office was postponed after a legal challenge from the government.
The union said the protest would be moved to a week-long series of walkouts across various parts of the department in a fortnight's time.
'Pressure on ministers'
Up to 55,000 workers at call centres and face-to-face enquiry centres at HMRC were on strike until lunchtime on Monday, walking back into offices at 13:00 BST in a show of solidarity.
The protest falls on the first day of the new tax year, when a number of changes to benefits and the PAYE tax system come into effect.
PCS is the fifth-largest trade union in the UK with 270,000 members.
PCS leader Mark Serwotka said the strikes were "part of an ongoing campaign of industrial action and protests to cause disruption for the government at key times and put pressure on ministers who are refusing to even talk to us.
"Civil and public servants are working harder than ever to provide the services we all rely on but instead of rewarding them, the government is imposing cuts to their pay, raiding their pensions and trying to rip up their basic working conditions."
On Sunday, it emerged the PCS was in talks with other unions about holding a general strike over spending cuts.
'Fight back'
Mr Serwotka told Sky News: "We are definitely having a discussion about generalised strike action.
"More imminently than that we are having the beginnings of a much more detailed discussion between unions who have real industrial issues in front of them now about co-ordinating their efforts."
Unite, the UK's largest union with 1.4 million members, has submitted documents to the TUC union calling for a 24-hour general strike against the government's spending cuts. The proposal will be discussed at a TUC meeting on 24 April.
Mr Serwotka added: "My own opinion is that what the government is doing is getting so increasingly unpopular that even a 24-hour strike involving millions of people across the economy would be an incredibly important moment.
"It would show that people can fight back and say we don't just have to accept our lot."