HBOS bosses under pressure after banking commission report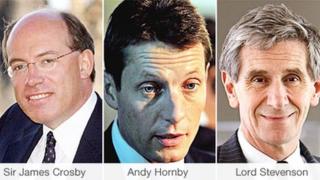 Pressure is growing on the three senior HBOS bankers accused of a "colossal failure" over the bank's 2008 collapse.
The Banking Standards Commission says regulators should consider barring Sir James Crosby, Andy Hornby and Lord Stevenson from future banking jobs.
One MP has also called for Sir James, described as the "architect" of HBOS's downfall, to be stripped of his title.
The bank was forced to merge with Lloyds in early 2009 and received a £20.5bn taxpayer bailout.
It was one of the most high profile casualties of the UK's banking crisis, which precipitated a wider economic downturn.
Sir James, who served as chief executive at HBOS between 2001 and 2006, earlier resigned from an advisory position he held at a London-based investment firm.
The BBC understands the board of Bridgepoint, a private equity firm, requested that Sir James stand down.
Goodwin precedent
But he retains other positions, including the post of non-executive director at Compass Group, a food services company.
John Mann MP, who sits on the House of Commons' Treasury Committee, told the BBC that the three men should be immediately banned from working in the banking sector.
He also said Sir James should follow in the footsteps of Fred Goodwin, the former boss of Royal Bank of Scotland, who was stripped of his knighthood in 2012.
"Fred Goodwin lost his knighthood, and therefore James Crosby should lose his knighthood as well," he said.
"We need to be seen not to be rewarding bankers for failure and to hold them properly to account."
But speaking earlier to the BBC, the head of the Banking Commission, Andrew Tyrie MP, refused to be drawn on whether Sir James or Lord Stevenson should lose their titles.
"That is not our jobs, we were not set up as a Banking Commission to strip people of their titles," he said.
No formal punishment
"I don't think the public are so concerned about knighthoods, what they want is reassurance that they won't get hit by this again, that people who do such damage are identified and are prevented from practising and that people should not be allowed to gamble with our money and then walk away with huge bonuses."
None of the three former bosses have been formally punished for their roles leading up to HBOS's failure, despite what the commission described as a "colossal failure of management" and a strategy dating back to 2001 that "sowed the seeds of disaster".
Lord Stevenson, who presided as chairman of HBOS throughout its 8-year existence, is currently a non-executive director at the bookseller Waterstone's.
Mr Hornby, who took over the running of HBOS in 2006, has been the chief executive of gambling company Coral since 2011.
In a statement on Friday, Coral's board expressed its full support for him.
"Coral is performing extremely well, and we are really pleased with the great job Andy is doing," a spokesman said.
In its report, the Banking Commission expressed its frustration that City regulators had "taken no steps" to consider banning the three men from further involvement in financial services.
The Chief Secretary to the Treasury, Danny Alexander, said the government would consider whether more should be done to hold those responsible for HBOS's demise to account.
"Unfortunately, the regulatory regime that was in place at the time was nowhere near tough enough," he said.
"We're just taking action this week as a government to put in place a tougher, new regulatory regime to try and make sure that some of the mistakes that were made can't happen again."
Paul Moore, a former HBOS executive turned whistleblower, said the most important thing now was for the three former bankers to "examine their consciences".
"Thirty two thousand people lost their jobs as a result of the merger between HBOS and Lloyds," he said. "That's a lot of people."