SMMT: UK March car sales beat expectations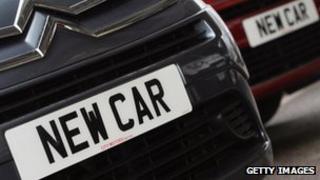 UK new car registrations outperformed expectations in March, jumping almost 6% against a year ago, the Society of Motor Manufacturers and Traders (SMMT) has said.
The SMMT said March, when new number plates are released, was typically a strong month for car registrations.
However, the increase this March is well above the almost 2% recorded at the same time last year.
The UK figures defy the EU trend, which remains downwards.
There were 394,806 registrations of cars with the new 13-plate, a 5.9% increase year-on-year, supported by strong demand for private registrations, which rose 7.8%.
Private registrations accounted for 51.7% of the market, followed by fleet (43.5%) and business (4.8%).
'Encouraging'
Volumes were at their highest since the 2010 Scrappage Incentive Scheme and the increase represents the 13th consecutive month of growth.
However, registrations are still 12.1% below the 2007 pre-financial crisis market total.
The March figures took total registrations for the year-to-date to 605,198, a 7.4% increase on 2012.
SMMT interim chief executive Mike Baunton said that despite continuing concerns about the economy, "consistent monthly growth in the market is an encouraging sign of returning consumer confidence".
He said that motorists had been attracted to forecourts by "new models and the latest technologies".
Registrations of petrol-fuelled cars have risen by 12.1% so far in 2013, outselling diesels. This was spurred by growth in the small car and private sector markets, the SMMT reported.
Registrations of alternatively fuelled cars dipped in the month, but rose by 2.9% in the first quarter.
Howard Archer, chief UK and European economist at IHS Global Insight, said: "It is evident that private new car sales have been supported by attractive offers and motorists' desire to buy more fuel-efficient cars at a time of high petrol prices."