Google 'sells Frommer's guides business back to founder'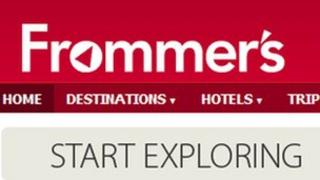 The founder of travel guidebook company Frommer's has said that he has reacquired the rights to the brand from internet giant Google.
Arthur Frommer told the AP news agency that he will publish the guides in both print and electronic form, in addition to operating the Frommer's website.
Google, which bought Frommer's last August, confirmed to AP that it had returned the brand to its founder.
How much Mr Frommer is said to have paid Google has not yet been reported.
Google also told the news agency that the travel content it had gained from Frommer's had been integrated into its various services, such as Google Plus and Maps, which offer users advice on local services such as hotels and restaurants.
Mr Frommer founded the company in 1957, before selling it to publisher Simon and Schuster in 1977.
Prior to Google's purchase of Frommer's for an undisclosed fee last year, it was owned by fellow publishing business Wiley and Sons.
There were reports last month that Google was to cease production of Frommer's print guides, and move the business to an online-only operation. However, Google refused to comment at the time.
Mr Frommer, 83, told AP: "It's a very happy time for me."