Mortgage rates 'to fall further' says Bank of England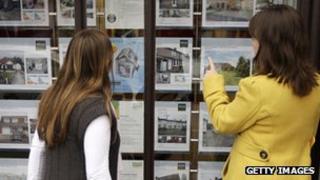 Banks and building societies expect mortgage rates to fall further over the coming months, according to the Bank of England.
In its credit conditions survey, the Bank said borrowing rates for homeowners fell in the first quarter of 2013, for the third quarter in a row.
Lenders also predicted that rates will continue to go down over the next three months.
The Bank said one reason was increased competition.
Many lenders also reported that the government's Funding for Lending Scheme (FLS) was making it cheaper for them to borrow money, which in turn made it cheaper for customers to borrow from them.
Under FLS, banks and building societies are given access to cheap money, only if they promise to pass it on to individuals and small businesses.
"Lenders expect mortgage rates to fall further in coming months as funding costs continue to fall, mainly as a result of the Funding for Lending Scheme," said Mark Harris of SPF private clients.
"Those on the look out for a cheap mortgage in coming months are therefore unlikely to be disappointed," he said.
The Bank reported that the rise in lending to those with smaller deposits (less than 25%) was "a little more marked".
However, a higher proportion of people were having loans rejected, as a result of their credit scores.
But even though mortgage rates are getting cheaper, the number of people taking out loans has been falling.
Earlier this week the Bank reported that the number of mortgage approvals for February was the lowest since September 2012.