Train information now in real time for journey planners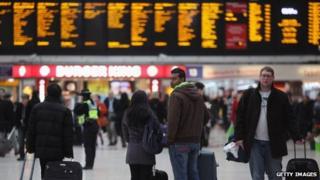 Those frustrating times spent standing on a railway station platform watching as your "delayed" train suddenly disappears from the departure board without warning may be coming to a rather welcome end.
By 2015 the UK's National Rail Enquiries (NRE) service intends to provide an "intelligent" data feed of real-time rail information to departure boards around the country as well as powering its own smartphone apps and website.
NRE has spent 13 years developing the system, now named Darwin in homage to its extended evolution (it is also less of a mouthful than the original title, Real Time Train Information).
Darwin is a computer program that uses algorithms and logic to blend a load of data, including timetable information, real-time updates on signalling and speed restrictions, and "insider knowledge" such as extra time factored in between stations on some routes.
It is an intensive programme to run. Darwin, along with NRE's other systems, currently occupies two data centres in Yorkshire, at Doncaster and Knottingley, although they are due to be merged this year.
It already powers the service's website and rail journey planner app, downloaded by nearly 3m smartphone users.
"Darwin gives us a picture of how things should be running versus how they actually are running," NRE head of online services Jason Webb told the BBC.
"We don't believe anyone else has a real-time journey planner."
Platform problems
According to Mr Webb, current station screens often rely on a complex combination of 66 different feeds, including locally gathered data that has to be input manually by station staff.
To complicate things further, the boards are managed geographically by separate tech suppliers including Thales and Atos, and timetable information is provided by the various rail operators.
Many stations cannot see how late a train is until it physically arrives in the area, Mr Webb said, giving Darwin's national overview an obvious advantage.
"I can never say never, but it certainly will improve screen information," he said.
One of Darwin's key feeds - the Train Describer System, used by signal operators to monitor trains at track level - is freely available to all from Network Rail.
Using the train describer data has made Darwin a lot more reliable, says chief executive Chris Scoggins.
By comparing it with historic data about individual services, the train describer data enables Darwin's forecasts to be performance-checked in real time, Mr Scoggins explained.
Price tag
However, third-party developers wishing to use Darwin will have to pay, and the advertising-free model of the smartphone app costs £4.99 to download.
"It is a commercial model," said Mr Webb.
"There is a cost in developing and running something like Darwin," he added, although he was coy about specific figures.
The app has received mixed, but overall fairly positive, reviews.
It currently has an average of nearly 4 stars on the Google Play site, where Android users download apps, and tech review website Pocket-Lint named it "app of the day" last year.
It "performed well" but the price tag is "exorbitant", said reviewer Chris Hall.
Macworld described the iPhone/iPad version as "awkward to use" and "relatively slow", critiquing the design.
"The way we approach any design, we try to be as customer-centric as we can," said Mr Webb.
"We also look at the environment where people will be using the app - you want information quickly so you want it to be as light as possible. On the website you have more time to browse, so you might want a wider set of information."
Mr Webb also said that a daily satisfaction survey runs on the app, and 80% of respondents have said they would recommend it.
As for the price, he said he felt it was "fairly commonplace" for ad-free versions of apps to have a price tag, and that it was a matter of personal opinion whether £4.99 was too high.
One thing is for certain, though: Darwin is in demand.
Starting this month, Toshiba UK will include a standard desktop tile linking to the National Rail Enquiries journey planner on all its Windows 8 devices, and the next step for Darwin is to incorporate GPS data as it becomes more available.
Mr Scoggins has unabashed praise for the system's potential.
"There is, to my knowledge, no other service anywhere in the world that can provide a full, multi-leg, journey planning capability based on an ever changing real-time set of schedules," he boasted.