Dow Jones and S&P climb to new highs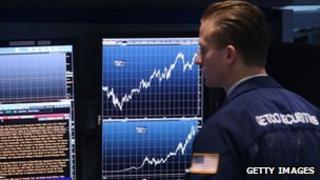 New York's Dow Jones and S&P 500 share indexes have set new all-time highs on Wall Street.
The rallies mean the stock markets are returning to levels not seen since before the global financial crisis.
The Dow rose 89 points, to close at 14,662, after an earlier intraday high of about 14,684.
And the broader Standard & Poor's 500 closed at a record high of 1,570, suggesting investors are regaining confidence in the US economy.
The Dow has more than doubled in value since it plummeted to less than 6,550 points in the depth of the crisis in March 2009.
Tuesday's rally came after a US Department of Commerce report that showed new orders for manufactured goods rose 3% in February, topping predictions.
And carmakers General Motors, Ford and Chrysler reported strong US monthly sales performances.
GM said "a strengthening economy and new products" were factors behind the result.