Was Apple apology in China a good move?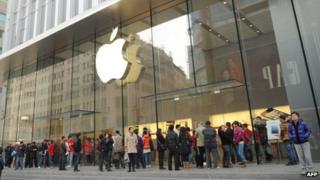 Was Apple right to apologise after the Chinese media accused the company of failing to listen to customer concerns?
Following two weeks of battering by the state-owned media over its repair and warranty policies, chief executive Tim Cook has issued a statement saying the firm was "aware that a lack of communications... led to the perception Apple's attitude was arrogant and that we do not care and attach importance to consumer feedback".
"We express our sincere apologies for any concerns or misunderstandings this gave consumers," he added.
Observers are divided over the move.
Some say that, as China is Apple's fastest-growing and second-largest market, the tech giant had little choice.
Others say Apple may have opened itself up to further media pressure.
Three China-based analysts have given their verdict.
Duncan Clark, chairman, BDA
Apple faced the unenviable choice of, either issuing an apology to satiate China's state-owned media in its purported consumer rights campaign, or risk the consequences of sustained attacks.
It couldn't realistically risk the latter. And apologising for any "concern or confusion" isn't in itself an admission of guilt.
But in dealing with China as a whole, Apple is increasingly dealing, not just with the government, but also directly with Chinese consumers.
The Chinese government, and ultimately the Communist Party, strives to be the ultimate gatekeeper for Western purveyors selling products and ideas to the Chinese people.
Apple has come to represent both a product and an idea: choice.
As one of the world's most valuable brands, Apple has an iconic status in China - a status it enjoyed even before the company launched its first store in Beijing in 2008 or the iPhone, in 2009.
The Chinese government has long been envious of Apple's appeal to consumers.
So how can the government make its people more patriotic in their choice of products?
Many would say China must make better products. But that is a long slog.
The temptation for the government is to take a short cut and attack foreign products instead.
But as the Chinese economy shifts to one where consumers are playing a much more important role, the government might find such attacks increasingly counter-productive.
Indeed the attacks by CCTV and People's Daily generated a lot of sympathy for Apple among Chinese consumers, especially the millions of loyal fans of the brand.
Mark Natkin, managing director, Marbridge Consulting
Authorities here in China are accustomed to dictating the rules of play and do not welcome companies, foreign or Chinese, that have an attitude that is too stand-offish.
Tim Cook and his team have understood this very well.
They know that maintaining good relations with Chinese consumers and authorities is very important if Apple wants to maintain optimal access to the Chinese market.
I think it was a good move on Apple's behalf to demonstrate that it understands the value of hearing the concerns of the consumers and humbly responding to them.
Apple definitely does not want to have any roadblocks put in its path in China.
Looking not too far back, Google's decision to move out of China completely has stifled its opportunities in the world's biggest internet market and has only created further friction between the firm and the Chinese authorities.
As for those who think that this is an admittance of guilt on Apple's part, they need to read the statement more carefully.
Apple has essentially said there were aspects of its operations that were not ideal and they are listening.
It is not a flat-out admission that Apple has not delivered on its promises.
Shaun Rein, managing director, China Market Research Group
Companies operating in China need to be proactive and make sure they communicate their position on important topics to consumers - especially during a crisis - and adhere to government regulations.
But was an apology really the right solution to the problem?
Consumers in China have become very loyal to brands such as Apple and BMW, in large part because they do offer excellent service superior to most foreign and domestic brands.
I think the recent targeting of Apple and BMW by the state media seems to miss the mark.
In fact, the consumer reaction to recent media stories that have targeted Apple and other foreign brands has been one of confusion.
Most tell us they do not believe these brands have a customer service problem.
Instead, they feel the negative press is diverting attention away from more serious issues in the country such as controlling pollution from state-owned enterprises.
By apologising publicly, Apple has opened its brand up to future criticism and may have helped foster a perception that its service in China and its relationships with Chinese consumers are lacking.
While Apple needed to make a statement, it should not have been an apology.
Instead, Tim Cook should have stated that Apple would do everything in its power to adhere to government regulations and policies.
And also that it would co-operate closely with the government to ensure compliance as well as strive to surpass consumer expectations for service.
I recently met with senior executives of a Fortune 500 firm that were in China to help prepare for a response in case the state media started to attack them for some reason.
With China's slowing economy, the government needs to continue to attract investment from foreign players that add value to the economy, as Apple does, rather than scaring it away.