UK house prices see annual increase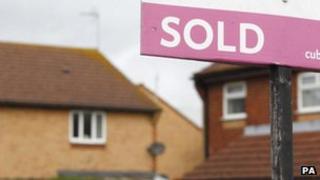 UK house prices in March were up 0.8% from a year earlier, according to the latest figures from the Nationwide.
The building society said it was the first annual increase since February 2012. Prices were unchanged in March compared with the previous month.
The average UK home is now worth £164,630, the survey found.
Separately, the Land Registry said prices in England and Wales rose by 1% over the last year.
London saw the sharpest increase, with prices going up by 6.3%.
Yorkshire and Humberside saw the biggest annual fall, with prices tumbling by 0.9%
The Nationwide said demand from buyers had been helped by lower mortgage costs and a better job market, but added that the outlook was "unusually uncertain".
Using the three-month-on-three-month comparison, a measure preferred by many economists, prices rose 0.2% over the last year.
"In recent months, buyer demand has been supported by healthy rates of employment growth, as well as the Funding for Lending Scheme, which has helped to reduce mortgage costs and increase credit availability," said Robert Gardner, Nationwide's chief economist.
The interactive content on this page requires JavaScript
Government help
The Halifax has said that prices are rising faster than the figures from Nationwide suggest.
Earlier this month, it said house prices rose by 1.9% over the last year.
Some economists have predicted that prices will rise further in the months ahead, as a direct result of government measures announced in the chancellor's Budget.
The Help to Buy scheme, which comes into operation on 1 April, will enable homebuyers to put down a 5% deposit. Borrowers can take out an equity loan of up to 20%, which will give the government a stake in the value of their home.
A separate mortgage guarantee scheme will begin in January next year. Under that scheme, the government will be liable for 15% of outstanding debts, should a homeowner default on a mortgage.
"The outlook for the housing market is unusually uncertain at present, in part because the prospects for the wider economy are unclear, but also as the impact of a number of policy initiatives is hard to gauge," said Mr Gardner.