Nepal steps up battle against drug traffickers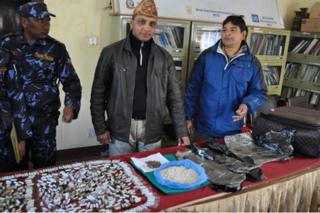 The suitcase, belonging to a European national, looked like any other piece of luggage - and initially, even the baggage scanner at Kathmandu airport in Nepal did not show anything suspicious.
But it felt heavier than its size, prompting customs officials to take a closer look.
When officers made a thorough check, they found carefully concealed packets of about 5kg (11lb) of hashish in a false bottom inside the case.
It was bound for Europe, where it would have been sold for thousands. And this was not an isolated incident.
Nepalese security forces say they seized thousands of kilograms of banned drugs such as cannabis, hashish, heroin and opium last year, which were destined for Europe and the US, as well as neighbouring India and China.
Transit point?
Nepal, as a picture-postcard tourist destination, attracts hundreds of thousands of tourists, most of them from Europe and the US.
There are increasing concerns that drug traffickers are using the surge in travellers to deflect attention from the trafficking of drugs through Nepal.
Police have arrested a number of Nepalese and foreign nationals, including individuals from India, Pakistan and a few European countries, for carrying illegal drugs to different destinations.
Figures from the Nepalese Narcotics Control Bureau (NCB) show that they seized 47 tonnes of cannabis in 2012, nearly 30% more than in the previous year.
The statistics also reveal a sharp increase in the seizure of drugs such as hashish, heroin and opium in the past few years.
"Drugs like heroin are coming from Afghanistan via Pakistan to Nepal. Then they are taken across the border to India and from there, it goes to different destinations," said Nawa Raj Silwal, a senior Nepalese police official.
Nepal has an open border with India, which helps smugglers. And as Mr Silwal pointed out, India has established more air links with Europe and the US in recent years, making it a more attractive transit route for drugs coming from Nepal.
There is no clear estimate of the value of these confiscated drugs in Nepal. But it is believed they could have a street value in the US and Europe of millions.
"Drug traffickers are trying to establish Nepal as a transit point, but we are foiling their attempts by mobilising forces and by increasing surveillance, especially at Kathmandu airport," Kedar Saud, the chief of the NCB, told the BBC.
After a series of recent arrests of drug traffickers, Nepalese officials have stepped up security at Kathmandu airport and along the country's land borders with India and China.
They say they have deployed undercover officers at the airport and elsewhere to try to bust the drug-trafficking rings.
Domestic use
That is not the only problem that the Himalayan nation is facing in its fight against drugs.
Some experts say that the growing problem of drug abuse in Nepal is more serious than the trafficking through the country.
They warn that increasingly students are taking marijuana, hashish and synthetic drugs such as diazepam and buprenorphine. Heroin, known as brown sugar, is also becoming popular with Nepalese youth.
"The increasing drug abuse in Nepal is alarming. It is a serious problem," said Basanta Raj Kunwar, executive director of Narconon Nepal, a rehabilitation group that provides education on the effects of drugs.
"In the last 15 years, the number of drug users has doubled."
He said youngsters, particularly students, were increasingly taking drugs without realising their harmful effects. There were already 150,000 drug addicts in Nepal out of a population of 30.5 million.
Lax controls?
There has been heavy criticism of the government, with many pointing out that the authorities have not done enough to counter the threat.
There are allegations that some drugs are even easily available in medical shops, as they are not well monitored by the authorities.
"The government is not doing enough to control drug abuse," said Mr Kunwar. "The drug dealers are better organised than the government."
According to Mr Kunwar, four Nepalese ministries are involved in tackling drug trafficking and abuse, so policy co-ordination is difficult.
He suggests that Nepal should follow the Israeli model in tackling drug trafficking and abuse. In Israel, he said, drug control is under the prime minister's office and it co-ordinates the work of ministries to address the issue.
Mr Saud said help was needed from other countries as drug trafficking was a global phenomenon.
"It is not possible for Nepal alone to tackle the drug problem. Drug traffickers are well organised and have an international network," he said.
Nepal was a hub for hippy travellers indulging in drugs in the 1970s. It took years for the country to get rid of drugs and their negative image.
Once again, the authorities are fighting to avoid having their country labelled as a haven for drug trafficking.