Energy policies 'reduce bill rises'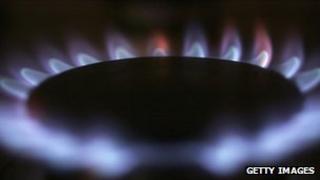 Energy policies will cushion consumers from price rises, but only after contributing to a rise in average household bills, a report has said.
By 2020, bills will be 11% - or £166 - lower than they would otherwise have been, according to the Department of Energy and Climate Change's report.
It looked at policies such as a drive to boost home insulation and promote energy efficient boiler installation.
Labour accused the government of masking the effect of its policies.
Downward trend
Savings generated from policies on energy efficiency and climate change are already having an impact and will increase over the next decade, the report said.
Household dual fuel bills are estimated to be on average 5% - or £64 - lower now than they would be without these policies, it said.
Nearly half of the average household dual fuel energy bill, or about 47%, is made up of fossil fuel prices, or £598, with the second largest cost attributed to network costs or transport and distribution of energy, at 20%, or £257.
Government policies on energy and climate change account for 9%, or £112 of this bill - with £30 of this spent on renewable energy policies, including £9 on on-shore and £9 on off-shore wind.
More than half of the energy and climate change policy costs in household bills are spent on measures to target the fuel poor and energy efficiency.
The report showed that 85% of the rise in household bills between 2010 and 2012 was from wholesale energy costs and network costs and 15% as a result of government policies.
Household energy consumption has been on a downward trend since 2005, partly as a result of energy efficiency measures already in place, according to the report.
By 2020 around 12 million boilers will have been replaced with more energy efficient models, it said.
Energy and Climate Change Secretary Ed Davey said: "Global gas price hikes are squeezing households. They are beyond any government's control and, by all serious predictions, are likely to continue rising.
"We are doing all we can to offset these global energy price rises, and while we have more to do, this new study shows our policies are putting a cushion between global prices and the bills we all pay."
Caroline Flint, shadow energy and climate change secretary, said: "The government's underhand attempt to mask the real impact of its policies on families' energy bills is shameful... Instead of cooking the books to trick people into thinking their energy bills will be lower, ministers should get behind Labour's plans to overhaul the energy market and deliver fair prices for the public."
'Less positive'
The report also found that businesses that are medium-sized users of energy currently face energy costs that are on average 21% higher as a result of energy and climate change policies, with this figure rising to 22% by 2020.
Large energy-intensive users currently face energy costs that are on average between one and 14% higher as a result of policies, with this rising to between six and 36% by 2020.
The estimates did not include measures the government was currently considering to reduce the impact of low carbon policies on the costs of electricity for energy intensive industries, including a £250m package of compensation for industry to 2014/2015.
Mr Davey said: "The picture for business is less positive, which is why our new proposals to exempt and compensate the most energy intensive industries from certain policy impacts is crucial. Nothing would be gained from forcing industry, jobs and emissions abroad."
Steve Radley, policy director at EEF, the manufacturers' organisation, said: "Measures to shield the most energy-intensive industries from a portion of the costs will make a difference but, unless we get a grip on spiralling policy costs, steeply rising electricity prices for the rest of the sector risk making the UK an increasingly unattractive location for industrial investment and undermining efforts to rebalance the economy.
"The first step is scrapping costly policies with questionable environmental impact, such as the carbon price floor and the CRC Energy Efficiency Scheme, as soon as public finances allow."