Online dating firm Cupid plc sees share value plunge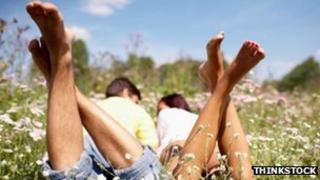 One of UK's biggest online dating providers has seen its shares fall by more than half after announcing an audit into the way it operates.
Shares in Edinburgh-based Cupid Plc, which include cupid.com, benaughty.com and flirt.com, fell by 57% to 49p.
Last month a BBC investigation spoke to internet surfers who said they had lots of messages when they signed up to the sites as free users.
But when they paid up, interest rapidly tailed off.
Cupid denied at the time it was creating user profiles on its websites to entice new customers to sign up or that the company sent communications in order to tempt free members to pay subscriptions.
Its chairman, Bill Dobbie, said it had about 500 "staff profiles" on its websites - but he insisted they were used for moderating chat rooms and forums - and to root out scammers.
Now a blogger, John Hempton of Bronte Capital, has revealed that he set up a fake profile on girlsdateforfree.com - a Cupid Plc site.
He made his profile - headed "Fat, lazy, poor sick guy wants support" - as unpleasant as possible, including saying he suffered from a sexually transmitted disease, to see what sort of reaction he would get on the site.
"Strangely and almost immediately a fair few age-appropriate and good-looking women want to talk to my false profile. Girls I could not get normally I think," Mr Hempton said on his blog.
"After a couple of weeks (and having allowed my profile on other Cupid sites such as benaughty.com) I have about 50 women who want to talk to me and about 190 emails in my specially set-up account."
Mr Hempton's story was then featured in a Financial Times blog.
On Friday Cupid Plc said the company was "aware of a recent article and is carrying out an investigation into the allegations therein".
It also said it had commissioned an independent audit by one of the "big four accounting firms".
"Cupid plc confirms it does employ a motivation team of 24 people working across three shifts," it added.