Can big data help fight fires and save lives?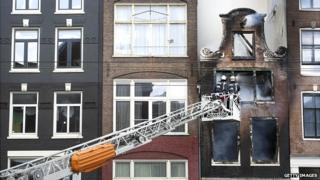 "From the heart of the city it takes a 20-minute bike ride to see cows. So our fire brigades need to get cows out of ditches and fight fires in metro tubes. The work is very diverse."
Barry van't Padje is risk profile project manager for the Amsterdam-Amstelland fire service in the Netherlands.
It serves about one million people, and in 2012 responded to more than 11,000 incidents - more than 30 a day.
"Another defining aspect of this area is our 17th Century canal belt," he says.
"This is world heritage and needs to be protected. Amsterdam is also one of the biggest oil transhipment harbours of Europe. So that brings yet another type of risk."
So how does the Dutch capital's fire service decide where the risk of fire and and other incidents is highest, and how and where their resources should be deployed to greatest effect?
Big data is a phrase bandied around a lot at the moment. At its simplest level it refers to a mass of data held digitally that is so huge it becomes very difficult to analyse, search or process.
As a society we are producing ever-increasing amounts of data in an explosive fashion. According to IBM, 90% of the data in the world today has been created in the past two years alone.
'Data warehouse'
This acceleration is driven by computing, mobile telecommunications, the internet, social media, sensors (for example CCTV cameras) and the internet of things - objects hooked up to the internet that produce data, such as smart production lines, smart thermostats etc - among other things.
As computing power increases and software becomes more sophisticated, our ability to trawl through masses of data and make sense of it is increasing.
And it is this type of technology that the fire service in Amsterdam is using to analyse a "data warehouse" Mr van't Padje says has taken two years to build.
Government open-source data on buildings, streets, roads, waterways and transport links in the region is combined with fire service incident reports.
Then, using business intelligence software called QlikView, in this case implemented by QlikTech's Dutch partner Incentro, the data is processed, analysed and displayed on a map.
"One of the first products we made on top of this data warehouse was - for the Netherlands - a completely new kind of risk profile," he says.
"We were able to calculate the risk of all the buildings, roads, waterways and train rails in our region. Over 600,000 objects!"
This has let the service pinpoint 12 million possible incidents. So where there is a particular risk - chemical fire or car crash for example - they can have the right resources and equipment in place.
Staff training is tailored accordingly, and households in at risk areas can get fire safety advice.
"We have two general types of application for this kind of risk profiling: legitimisation of our performances and steering our services," says Mr van't Padje.
"We can, for example, explain to the municipalities that we work for, that our response time is justified by the level of risk.
"We are the quickest where the risks are the highest. If this is in a certain area not the case, then we have an argument to take measures to lower or to increase the response time."
Ultimately, the service hopes to improve efficiency and not only reduce cost, but accurately track it - as well as hopefully save lives.
The QlikView platform is designed to be flexible, according to QlikTech's David Bolton, and the way the Amsterdam fire service have been using it is unique in several ways.
"It's a platform, you can take data from anywhere and pull it together and turn it into information."
According to Mr Bolton, over 50 fire services worldwide are now using it, part of 1,500 public sector organisations in total.
More the merrier
In the United Kingdom the London Fire Brigade (LFB) uses software created by business analytics specialists SAS as part of their Incident Risk Analysis toolkit.
The focus here is fire prevention.
The software lets the fire brigade use a technique known as modelling regression to target places that register as at high risk for fire. In those areas they will carry out home safety checks, advise people on fire safety and fit smoke alarms.
Fire death reports are pulled together with census data, ordinance survey maps, historic trends, and Mosaic data (consumer profiling) among other sources.
LFB's Andy Mobbs believes there's a clear connection between this risk profiling and preventing fires and saving lives.
"As with any analytical technique, the more data you can throw at it the better the insight is," says Amanda Gardiner of SAS.
"Understanding risk allows you to target resources. What the analytics does is it takes that gut feeling away and it has true metrics applied to it that people can use within the business."
The Amsterdam fire service's Barry van't Padje says this is only the beginning.
"The change is not that big yet. We are still implementing the first products. But the possibilities are vast."
Plans for 2013 include a dashboard to show how the service is performing.
Fire engines will soon be able to access profiles and tactical information on a screen. Gathering data from social media is also being considered.
"We constantly need to ask ourselves whether our performance is justified by actual risks," he says.
"Because of the amount of data that we have gathered and the way we are able to analyse them we are able to actually answer these questions too.
"Whether this will save lives and money we don't know yet. It could be that our analyses show that an extra investment in safety will bring more yield."