US home sales rise fuels recovery hopes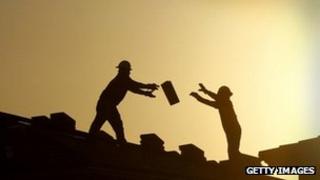 Signs of recovery in the US economy have been underlined with news that home sales are running at a three-year high and that a confidence index rose.
Sales of existing homes in February were at their highest annual rate since November 2009, according to the National Association of Realtors (NAR).
Meanwhile, the Conference Board index of economic indicators rose 0.5%.
On Wednesday, the Federal Reserve said the economy had improved "moderately", but warned about high unemployment.
The NAR said that home sales had gained 0.8% since January to reach an annual pace of 4.98 million units, with the rise all coming from sales of apartments and condominiums. Sales of family homes fell very slightly.
NAR economist Lawrence Yun said low interest rates, improvement in employment and pent-up demand still underpinned the market's continuing expansion.
"Job growth in the improving economy and pent-up demand are causing both home sales and rental leasing to rise," Mr Yun said in the statement.
Meanwhile, a composite index of economic indicators rose 0.5% in February to 94.8, following a similar rise in January.
The Conference Board, a research association, said that eight of the 10 components on the index increased in February, compared with five in January and six in December.
The components include average weekly hours working, manufacturers' new orders, and new building permits issued.
Ken Goldstein, economist at the Conference Board, said: "The US economy is growing slowly now, and with this reading increases hope that it may pick up some momentum in the second half of the year."
In a report on Wednesday, the US Federal Reserve said that the economy had strengthened "moderately" but still needed stimulus measures to underpin recovery.
In a statement after a two-day meeting, the Fed said it would keep its policy of buying $85bn a month of Treasury bonds and mortgage-backed securities.
Although US joblessness has fallen, the Fed said it wanted to see signs of a long-term trend of falling unemployment.