Co-op Bank in £674m annual loss and sells insurer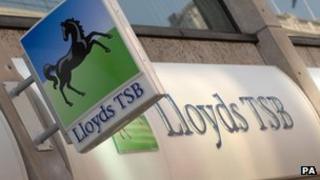 The Co-operative Bank has said it made a loss and will sell an insurance unit to rescue a deal to take over some of Lloyds Banking Group's branches.
The bank lost £673.7m in the year to 31 December 2012, compared to a profit of £54.2m in the previous year.
The Co-op agreed last July to buy 632 branches from Lloyds, transferring over 4.8 million Lloyds customers.
Technical issues related to computer systems and the state of the economy have stalled the deal so far.
Last year, the Co-op agreed to pay £350m upfront and up to an additional £400m based on the performance of the combined business to take over the branches, a sale that was demanded of Lloyds by European regulators after Lloyds was part-nationalised in 2009.
The Co-op Bank's planned sale of its general insurance arm is in addition to the announced sale of its life insurance business to Royal London Mutual Insurance for £219m.
"We're getting in shape to do it if we can," Co-op chief executive Peter Marks said. "We're clearing the decks in order to take advantage of the [Lloyds branch] acquisition if we decide to go ahead with it.
"We're trying to conclude this transaction in very difficult economic times. That's what makes it more difficult. We're trying to establish what the risks are and to mitigate those risks," Mr Marks said on a conference call.
The bank said that its losses on bad loans had risen to £474m during the year from £121m the year before.
The deal would take the Co-op's total branches to almost 1,000. The sale is expected to be completed by the end of November 2013.
The Co-op is owned by its members.