Barclays awards shares worth £39m to nine executives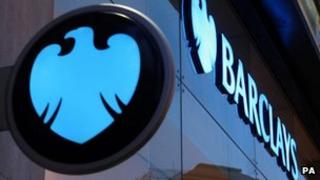 Barclays' investment bank chief has been awarded shares worth £17.5m in long-term bonuses - and has sold them all.
The bank said the shares given to Rich Ricci were an accumulation of remuneration over a number of years.
Shares worth a total of £39m were given to nine executives.
Chief executive Antony Jenkins, who took over the bank last August, received shares worth £5.6m and sold £2.9m of them.
The latest awards relate to incentive schemes going back several years.
Mr Jenkins waived his bonus for 2012, a year in which Barclays was hit by fines for PPI mis-selling and attempts to rig the Libor inter-bank rate.
Outgoing finance director Chris Lucas received shares worth £1.2m.
Barclays said the timeframe of the award scheme varied for individuals, but some go back to as early as 2007.
Last June the bank was fined £290m by British and US regulators for attempted manipulation of Libor and Euribor interbank rates between 2005 and 2009.
The scandal led to the resignations of three Barclays senior board members, including the chief executive Bob Diamond. He was replaced by Mr Jenkins, who had been head of retail and business banking.
Barclays has also set aside £2bn to compensate customers for the mis-selling of payment protection insurance.