Lufthansa cancels 500 flights before strike action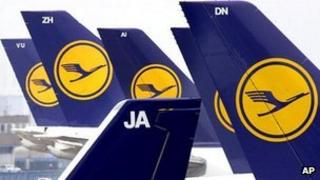 German airline Lufthansa has cancelled more than 500 flights in advance of a strike by workers on Thursday.
The Verdi union has called on 33,000 employees to stage a five-hour walkout in a row over wages and conditions.
Verdi is calling for a 5.2% increase in wages for employees at several Lufthansa divisions.
But Lufthansa is trying to cut costs in the face of soaring jet fuel prices and increased competition from Middle Eastern and low-cost airlines.
The airline - Europe's biggest by revenue - wants to freeze pay and increase the hours employees work by one hour per week.
Hamburg and Frankfurt will be the airports most affected by the action, the union said.
Lufthansa has cancelled 514 flights in total, mostly to German and European destinations, but most intercontinental flights should be unaffected, the airline said.