Apple brand less 'inspiring', survey says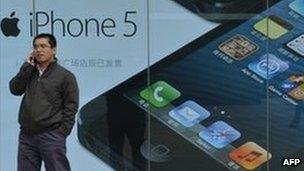 Technology giant Apple is perceived as less "inspiring" than it was three years ago, a brand survey suggests.
The findings will heighten concerns among shareholders who have seen about $230bn wiped off Apple's stock market value since September 2012.
Smartphone rival Samsung is now seen as equally "inspiring" in the US, says the survey by consultancy Added Value (AV).
AV is part of Sir Martin Sorrell's marketing group WPP, whose clients include Samsung, Google and eBay.
Analysts fear Apple may have lost its way since its visionary co-founder, Steve Jobs, died in October 2011.
While Apple's brand still scores more highly overall, Samsung's is more consistently appreciated across the world, particularly in East Asia, says Added Value.
Apple's reputation for market-leading innovation took a knock after the iPhone 5 was seen as an iteration of an earlier design rather than a characteristic step-change.
According to research by Gartner, Samsung and Apple now account for 52% of the global smartphone market, but in the final quarter of 2012, Samsung sold 64.5 million smartphones to Apple's 43.5 million.
Similarly, Apple's iPad Mini was a response to rival, smaller tablet computers already on the market, adding to the impression Apple was following, not leading.
In September 2012, Apple's share price topped $700 - a record for the company - giving the tech company a market capitalisation of more than $655bn.
But since then, the price has tumbled, wiping about $230bn off the company's value.
Since 2011, Apple and Samsung have been slugging it out across the world's courts in a series of distracting patent battles.
Apple first sued Samsung in the US for alleged intellectual property infringements. Other court cases have taken place in France, Germany, the UK, the Netherlands, Italy, South Korea and Japan, with no company yet emerging as the clear winner.
Apple may be sitting on a $137bn cash mountain, but unless it can recapture its role as an "inspiring" technology leader and settle its legal battles, the perception may grow that its best days are behind it, analysts believe.
In its Cultural Traction 2013 report, Added Value analysed the "cultural vibrancy" of 160 brands across 15 sectors, involving more than 62,000 respondents in 10 countries.
The top 10 brands perceived to be the most "visionary, inspiring, bold and exciting" were Google, Apple, Samsung, Ikea, Microsoft, Sony, BMW, Audi, Coca-Cola and eBay.
This story has been updated to reflect that WPP works for Samsung.
Related Internet Links
The BBC is not responsible for the content of external sites.