The dangers of pension liberation schemes which promise quick cash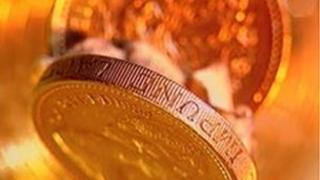 The pensions regulator says £400m has been transferred to pension schemes which promise people access to their funds before they are 55. But why are some people willing to sacrifice their retirement income for a few thousand pounds?
Richard Kellet thought he had found the answer to his problems.
In August 2012 he received a text message asking if he would like to release money from his pension.
"I mean who wouldn't want to? I had just short of £28,000 sat there frozen. We're in the middle of a recession. So I replied back and we went from there, I'm afraid," he said.
Freedom Capital Partners Limited told him they could arrange the transfer but they would take £10,000 in fees.
Unemployed for six months and with his terraced house in Bradford in negative equity, Mr Kellet hoped it would turn around his fortunes.
"I would have rather got my hands on half that money and put it towards helping me to help myself to get a business going, so I can then provide for myself when it comes to retirement age," he said.
Mr Kellet is only 42, and withdrawing money from a pension before you are aged 55 is classed as an unauthorised payment and incurs a tax charge of 55%.
But he said Freedom Capital glossed over this vital detail: "It was a bit of a white elephant in the room…I mentioned it and the classic line was don't worry about it. And worry about it, I didn't."
In fact he faces a tax bill of over £15,000. When I inform him of this, his defiant chirpiness switched to anger.
"I'll end up with no pensions. I've had the most traumatic six months of my life and I've ended up with a whacking great bill from Inland Revenue. It's not a good look. I'll have to buy some scratchcards if I could afford them."
His pension was transferred to a company called Lothbury Pensions Administration Limited.
Neither Freedom Capital Partners or Lothbury Pensions Administration - which is now in administration - responded to our requests for an interview.
Mr Kellet has not yet seen a penny of his promised £17,000.
He is one of a number of people who have started legal action to try to get their funds released.
Aldo Zanetti, 39, transferred a £20,000 pension to Lothbury Pensions Administration and was told by Freedom Capital Partners that he would receive £12,000, the remainder going in administration fees.
He was willing to pay it: "It certainly has put a strain on sort of family life because because I wasn't able to pay the negative equity on a previous property, I'm paying two mortgages now, so it's put a strain on finances."
At least Mr Zanetti has another pension. Others who transferred their money to Lothbury Pensions Administration are less fortunate.
He said: "I think the most anyone's invested is £100,000. I believe some of these people, it was more just to you know keep their heads above water. Anecdotally I believe that there is one person who's attempted to take their life over this.
As a trained accountant, Mr Zanetti was aware he would have to pay tax on the release of his pension but he did not realise it would be £11,000. He has not yet received any money.
He regrets not making more checks before going ahead: "With hindsight that's perhaps the biggest mistake I made. My investigations started once I realised that things had gone awry."
In February the pensions regulator launched a campaign alerting people to the dangers of all pension liberation schemes.
The regulators chief executive, Bill Galvin, says there are common warning signals: "If people say there's a loophole in the legislation….if they put pressure on you to execute quickly or they can provide you with a loan. What we say to people is be very, very careful in those circumstances. Steer well clear."
Mark Barraclough is wishing he had taken that advice. He is a neighbour of Mr Kellet's in Bradford and had £23,000 in a pension.
He was offered a £5,000 commission to transfer it to a new scheme and immediately signed up.
"I'd like to take me kids away on holiday, buy a car. I know it's not a great deal of money, but when you haven't got any money every little helps," he said.
His new pensions fund, Andavis, told him his fund would be used to buy preferential shares in the payday loans company, Speed-E-Loans.com.
According to its latest accounts it made an operating loss of £1.5m and has a long list of creditors.
So what is likely to happen to his pension?
Adrian Boulding, pensions strategy director at Legal and General, said he could be throwing it all away: "I don't think these shares are going to be worth anything. If a company is making large losses the likelihood is that preference shares will end up valueless."
In a statement Speed-E-Loans.com said: "We believe we offer attractive returns on investments but accept our product may not be right for everybody. If an individual has chosen to invest his pension in Speed-E-Loans then that would have to be done through an independent adviser."
The government is warning people to be wary of pension liberation schemes and the sting in the tail from tax charges. But the pensions minister, Steve Webb, admits there are limits to what the authorities can do: "I can't stop somebody trying to get their pension transferred into another scheme.. but what we can do is make sure they know they'll face hefty fees, and then individuals have to take the consequences of that."
Listen to The Report on BBC Radio 4 on Thursday, 21 March at 20:00. You can listen again via the Radio 4 website or The Report download.