Cyprus: Banking crisis stalls financial lives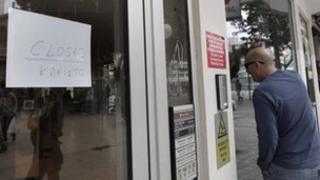 Homeowners have told of how sales of their properties are on hold and businesses have called for clarity amid banking uncertainty in Cyprus.
The country is braced for an emergency session of its parliament, and a planned vote, regarding a 10bn euro ($13bn; £9bn) financial rescue.
Ordinary savers, holding more than 20,000 euros are set to be hit by a levy as part of the deal.
Now, as banks remain closed, many regular transactions have stalled.
'Bombshell'
Under the plan, savers with more than 20,000 euros in their accounts would be forced to pay a levy of 6.75%. Those with more than 100,000 euros would be charged at 9.9%.
Banks have been closed since Friday and are expected to remain shut until Thursday.
This has created problems for people such as Sylvia and Brian Hammond, who were ready to sell their house in Pyrgos, Limassol - so much so that they had sold all of their furnishings except for a three-piece suite and two beds.
"We have been trying to sell our house for two years. We were happy that we finally found a buyer. All was looking well until we had the bombshell at the weekend," said Mrs Hammond, aged 73. "Now we would just like to know either way."
The couple, who are getting around in a hired car and have borrowed a television and kettle from neighbours, were planning to move to the UK after 25 years spent with a property in Cyprus.
"I was an ambassador for Cyprus but we have seen a great deal of change," Mrs Hammond said.
'Uncertainty'
The Hammonds have been in contact with their solicitor, but few people can shed any light on the situation.
Melanthi Nicolaou, operations manager at Mayfair London Properties in Larnaca, said that many real estate decisions were on hold owing to a lack of an available banking system.
This was particularly affecting potential buyers' decisions on whether to put down a deposit for a home, or knowing whether they had the savings to do so.
"Buyers cannot access their money, or they are waiting to see what is going to happen with the levy," she said.
"We just need to know what is going to happen, because the uncertainty is killing the market - but we need to be patient."
She said that many locals in Cyprus had been showing an interest in investing in property in recent weeks, owing to worries about the safety of savings in banks.
Many other businesses are concerned about the effect of the bank closures on their ability to operate.
Ken Quinn, who works in a groceries import and export firm, said that business in general was playing a waiting game at present.
"It is business as usual, but we are expecting some logistics issues. If this goes on people may want payment in cash," the 62-year-old said.
"We are just waiting to see what parliament will decide on."
He said that bank transfers could be made electronically, but there was a backlog in processing them because the banks were shut.
After reports of cash running low in ATMs, many had now been restocked,
Yet, the levy - if it is agreed - would apply to funds that were held with the banks at the end of Friday, rather than at the time of the vote.