House prices rise for first-time buyers, says ONS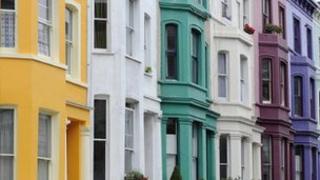 Prices paid for UK homes by first-time buyers in January were 2% higher than a year earlier, official figures show.
Overall, house prices were up by 2.2% compared with January 2012, but fell by 0.7% between December 2012 and January 2013.
The Office for National Statistics (ONS) said that the annual growth was driven by rises in London and the South East of England.
Sales have picked up in recent months, separate figures have suggested.
However, these sales remain well below the levels seen during the housing boom.
In the year to January, prices in England rose by 2.4% and were up by 0.9% in Wales, but there were falls of 0.2% in Scotland and 5.4% in Northern Ireland.
Annual house price increases in England were driven by a 5.5% rise in London, the ONS said.
The average cost of a home in January was £234,000, the figures showed.
"Worryingly, first-time buyers are having to pay more for their first home," said Jonathan Harris, director of mortgage broker Anderson Harris.
"While homeowners will welcome higher house prices, those struggling to get on the housing ladder for the first time are unlikely to feel the same. First-time buyers still need a 20% deposit on average, but with more mortgages available to those with 10% deposits, it is getting easier to get funding."
"However, if house prices continue to edge up, this is not going to help the situation. It is essential that the chancellor uses the Budget to assist first-time buyers further as this would help boost the housing market as a whole."