Russian money in Cyprus: Why is there so much?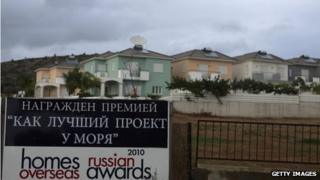 One of the interesting aspects to emerge from the Cyprus bailout is the close financial relationship between Cyprus and Russia - and in particular the large amount of Russian money invested in the eurozone's smallest economy.
It is estimated that about one half to a third of all Cyprus bank deposits are of Russian origin.
The ratings agency Moody's estimates that there is about $31bn (£21bn) of Russian money in Cypriot bank accounts - $12bn from banks and $19bn from businesses and individuals.
Moody's also estimates that about $40bn has been loaned to Russian companies based in Cyprus.
The suspicion - particularly in Germany - is that a lot of the money is from ill-gotten gains.
A leaked report from the German foreign intelligence service, quoted by Der Spiegel, suggested that the main beneficiaries from a eurozone bailout of Cyprus would be Russian oligarchs, businessmen and mafiosi.
And that is believed to be one of the main reasons why savers with money in Cyprus are being forced to contribute to the bank bailout - an unprecedented event.
The close financial relationship between the two countries is said to date back to the early 1990s and the breakup of the Soviet Union when newly-rich oligarchs were looking for places to put their cash.
"It is safe to assume that these are richer Russians that have parked their money there, not with the purpose of getting higher returns in Cyprus, but to probably avoid close government attention," said Ivan Tchakarov, chief economist at Renaissance Capital.
Edward Savulyak director of the Moscow office at Tax Consulting UK told BBC Russian: "There were many Russians in Cyprus because they weren't asked many questions about the origins of the money.
"Other countries are more careful," he said.
Cyprus refutes those claims, arguing that it has effective measures in place to combat money laundering.
There are also perfectly legitimate reasons for a Russian company to want to set up in Cyprus; the 10% corporate tax rate, as well as Russia's tax treaty with Cyprus which means a firm will not be taxed in both places.
"Russian business takes great advantage of the low corporate tax rate and favourable tax rates for profit and dividends in Cyprus. But that is also true of western companies wanting to set up in Russia," said Andrey Goltsblat from the Moscow-based law firm Goltsblat BLP.
Mr Goltsblat explained that there is a whole industry in Cyprus based on serving Russian clientele.
"You don't need to actually go there," he said. "A Cypriot-based financial advisor will offer you a full package and the customer gets an online password to access the account."
Loan at risk?
As part of the bailout deal agreed over the weekend, bank customers face a one-off levy.
Those with less than 100,000 euros will have to pay 6.75%, while those with more than 100,000 euros will be expected to pay 9.9%. There was a deep unease and unhappiness at the move in Moscow.
Moscow lent Cyprus 2.5bn euros in 2011 and it recently asked for another 2bn-euro loan.
But the tax on savings may lead the Russian government to rethink whether to loan more money to the indebted Mediterranean state.
"It looks like the Eurogroup took this action without consulting Russia," Finance Minister Anton Siluanov was quoted as saying by Interfax.
"So, we are going to take a second look at whether to take part in a deal to restructure our earlier credit," Mr Siluanov said.
Prime Minister Dmitry Medvedev said Russia would also "need to draw certain conclusions" before entering more loan talks with Cyprus.
Mass exodus?
There is now the fear that businesses will simply move their money elsewhere, exacerbating the already disastrous situation for Cyprus' banks.
The BBC's Ekaterina Drobinina spoke to one businessman who used to be based in Limassol, who said his friends and colleagues were immediately going to transfer their funds to Singapore or Dubai.
Analysts backed up that sentiment. "The unhappiest of the Russians will simply look for other places to put their money," said Paragone Advisory Group analyst Alexander Zakharov.
Measures are in placed to try to stop money from flowing out of the country. But one tax consultant said a lot of it had already been moved.
"I don't know a single millionaire who has kept their money in Cyprus. As for private depositors, they have hundreds of thousands in their bank accounts, but not millions," said Mr Savulyak.
He said they had moved it elsewhere more than a year ago when the safety of Cyprus' banking system was first looking questionable.