BP appeal over 'absurd' Gulf oil spill payouts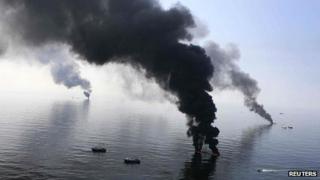 Oil giant BP is taking legal action in the US to limit payouts by a fund set up to compensate those affected by the 2010 oil spill in the Gulf of Mexico.
BP said some of the claims being paid by the scheme's administrator were "fictitious" and "absurd".
BP set aside $7.8bn (£5.2bn) when it agreed to pay compensation in 2012, but it now expects a much higher total.
The Deepwater Horizon disaster released an estimated four million barrels of oil into the Gulf.
An explosion on an offshore rig killed 11 workers and ruptured a deep-sea well head, which took 84 days to seal.
Last year BP agreed to pay compensation to around 100,000 people and companies - including fishermen and restaurant owners - who claimed the oil spill had harmed their livelihoods or their health.
But it says the lawyer administering the compensation fund is misinterpreting the terms of the agreement and making pay-outs that are too generous.
'Underestimate'
BP highlights companies far from the coast that were given payments despite earning higher profits in the year of the spill than in previous years.
The examples given include $21m to a Louisiana rice mill 40 miles inland and $9.7m to an Alabama construction company nearly 200 miles (320km) from the sea.
"BP did not agree to pay what is already hundreds of millions of dollars, and potentially billions, to claimants with 'losses' that do not exist in reality," the company said in papers filed at the court in New Orleans.
In response, lawyers representing the claimants said BP had "undervalued the settlement and underestimated the number of people and businesses that qualify under the objective formulas that BP agreed to".
BP is appealing against a ruling earlier this month that upheld the way compensation is being paid. It says it could be "irreparably harmed" by the payouts.
The same judge is also presiding over a separate trial of BP and other companies on civil charges over the oil spill, which was one of the worst in US history.
If it loses that case it could face a further huge fine, despite having already agreed in 2012 to pay $4.5bn to settle criminal charges.