SAC Capital fund pays $614m over insider trading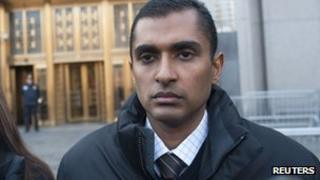 A major hedge fund has agreed to pay a record $614m (£406m) to US regulators to settle charges of insider trading.
SAC Capital, run by Steve Cohen, did not admit or deny the charges.
A unit of the business was accused of profiting from secret information about a drug trial from a doctor before it was made public.
The Securities and Exchange Committee described the settlement a "sharp warning" to any fund that would break the law.
The settlement "does not preclude any such charges against any person, including Steven Cohen", said George Canellos, the SEC's acting director of enforcement.
"We can't tolerate a market rigged for the benefit of insiders and their cronies," he added.
SAC Capital runs a hedge fund worth $15bn and Mr Cohen is well-known character in the industry.
Criminal trial
The $614m settlement was for two different incidents at SAC Capital.
CR Intrinsic Investors settled for $600m. The former SAC trader, Mathew Martoma, is still facing a criminal trial and has pleaded not guilty.
He is accused of illegally obtaining confidential details about a negative clinical trial for an Alzheimer's drug. He then allegedly shared the information with SAC affiliates and sold $960m worth of shares in the company that made the drug, Elan and Wyeth.
And $14m was for a separate incident at the Sigma Capital affiliate for insider trading in the shares of tech firms Dell and Nvidia.
"This settlement is a substantial step toward resolving all outstanding regulatory matters and allows the firm to move forward with confidence,'' SAC said in a statement.
``We are committed to continuing to maintain a first-rate compliance effort woven into the fabric of the firm."