John Lewis defends supplier rebate demand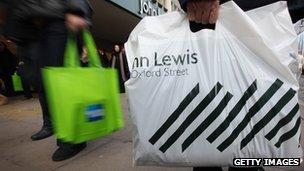 John Lewis has defended its plan to ask for a rebate from suppliers who see an increase in sales through its stores.
Some business and retail organisations had accused the company of being "greedy" over its demands.
However, John Lewis managing director Andy Street told the BBC that the scheme was "absolutely fair" and was common practice in the industry.
"What we're actually doing is sharing the success of the business," he told BBC Radio 4's Today programme.
"It's what retailers have done all the time. What we're saying to suppliers who we've worked with for many, many years is that we will share the success together. We will grow the business. If we don't grow the business together, there's absolutely no change in terms," he added.
Mr Street said the scheme would begin in a year's time. Suppliers would be asked for a 0.75% rebate if their sales grew by 10%.
Several reports earlier in the week said the rebate would rise to 5.25% if sales grew by more than 50%.
Following the reports, the Forum of Private Business called the scheme "outrageous" and accused John Lewis of being "greedy".
Last week, the John Lewis partnership, which includes Waitrose supermarkets, reported a 16% rise in full-year profits to £409m.
The group also announced a 17% bonus for staff, up from 14% the year before, with this year's bonus pool worth £210m.
Related Internet Links
The BBC is not responsible for the content of external sites.