JP Morgan accused of hiding losses by Senate report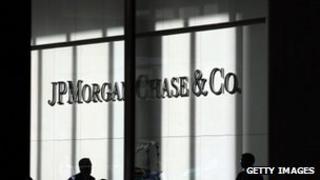 US bank JP Morgan Chase has been accused of hiding its huge trading losses by a US Senate panel.
The bank lost $6.2bn (£4.1bn) in trades last year by an employee nicknamed the London Whale.
The Senate Permanent Subcommittee on Investigations found that the bank misled investors and ignored risks.
In response, the bank said: "While we have repeatedly acknowledged mistakes, our senior management acted in good faith."
JP Morgan added that the management "never had any intent to mislead anyone".
Bruno Iksil, the trader at the heart of the incident, was dubbed the London Whale because the positions taken were big enough to move markets.
Mr Iksil lost his job as a result.
"We found a trading operation that piled on risk, ignored limits on risk-taking, hid losses, dodged oversight and misinformed the public," said Carl Levin, the subcommittee chairman, who is a Democrat.
The report suggested that senior executives, including chief executive Jamie Dimon, were aware of huge losses at the bank, downplaying the risks in public, but also blamed federal regulators for a lack of oversight that allowed the country's largest bank to take on levels of risk.
The bank "gambled away billions of dollars through risky and exotic trades, then intentionally hid its losses from investors and the public, showing complete disregard for risk management procedures and regulatory oversight," Republican Senator John McCain said.
The committee will question bank officials and regulators on Friday about the trading loss.