Detroit gets new financial manager Kevyn Orr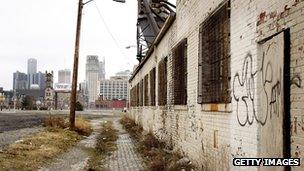 An emergency financial manager with wide-ranging powers has been appointed for the troubled US city of Detroit, in the biggest state takeover for years.
Kevyn Orr, a lawyer who worked on restructuring the carmaker Chrysler after bankruptcy, will be able to override elected officials.
Detroit's finances have deteriorated because of the decline in the car industry, mismanagement and corruption.
The city is running a $300m (£200m) deficit and has debts of some $14bn.
Mr Orr was appointed by the Michigan state Governor Rick Snyder, who described the situation as a "crisis" and something that had to be resolved.
He will have the power to override its elected officials, rewrite labour contracts, privatise services and sell assets.
"We can rise from the ashes," Mr Orr told a news conference. "This is a beautiful city and a wonderful state that gave me my start. I feel compelled to do this job."
He added that if his emergency takeover succeeds "it will be one of the greatest turnarounds in US history".
Mr Orr said the city had been given 12 to 16 months but said he hoped to finish the job faster.
Once the centre of the automotive industry, Detroit's population has more than halved from its peak of 2 million in the 1950s. It was once the fifth-largest city in the US; now it is the 18th, with 700,000 inhabitants.
At 18.2%, unemployment in Detroit is more than double the US average of 7.7%.
The city has been running a deficit for nearly 10 years, struggling under the weight of its pension and health insurance commitments.
The BBC's Jonny Dymond, in Washington, says the 50-year decline of "Motor City" has reached a new low point.
But he adds this may not be the nadir; bankruptcy still looms if Mr Orr cannot get a grip on Detroit's finances.
This week, a former Detroit mayor, Kwame Kilpatrick, was convicted on charges of corruption and bribery. He was found guilty on 24 charges that included racketeering, fraud and collecting kickbacks for city contracts.
The move was greeted positively by analysts. "I think Snyder will be remembered as the politician who saved Detroit," said Jim McTevia, a specialist in restructuring at the financial consultancy McTevia & Associates.
"Make no mistake, Detroit is bankrupt. In this set of circumstances, there is no downside for the governor."
Related Internet Links
The BBC is not responsible for the content of external sites.