Kurdish oil exports stall in row over revenue-sharing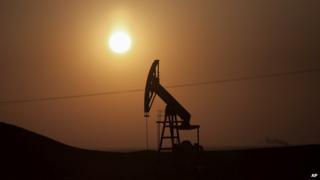 Oil boss Tony Hayward's description of his latest venture sounds like it could be drilling for oil in rural England rather than northern Iraq.
"It's fairly benign - it's gentle rolling countryside," the former BP chief executive says.
"The distances are short and the operating environment is safe and secure. It's pretty straightforward and it's pretty low-cost."
Genel Energy, the Anglo-Turkish company Mr Hayward now heads, has been in the semi-autonomous Kurdistan region of Iraq since 2002.
And like the 50 or so other foreign firms operating there, it was attracted by vast potential energy reserves and a Kurdish government that has welcomed investors with production contracts far more generous than those offered by Baghdad in the south.
But, caught in a dispute between politicians in the regional capital Irbil and those in the country's capital Baghdad, many of these investors - including Genel - say they have not been paid for much of the oil they send abroad.
As a result, since December exports from Kurdish Iraq have ceased - the latest in a line of such stoppages.
Stalemate
Oil underpins Iraq's economy, making up more than 95% of its budget revenues, and is fundamental to paying for the country's reconstruction after the sanctions, war and neglect of Saddam Hussein's regime.
Under the country's revenue-sharing scheme, more than 80% of the money from Iraq's international oil sales goes to Baghdad, with 17% going to the Kurds. All exports go through a pipeline controlled by the federal government, with Baghdad collecting the revenues for distribution.
But after changes to the way the central government calculates payments to operators, Kurdistan says it has not received enough money to pay the companies working in Kurdish Iraq. And with the country yet to establish a hydrocarbon law to settle disputes, things have hit a stalemate.
This escalated earlier this month, when Iraq's delayed 2013 budget was eventually passed in the absence of Kurdish politicians. Less than $650m (£430m) has been set aside for oil companies in the north, just a fraction of the $3.5bn (£2.3bn) that Irbil had said it needed to cover the shortfall.
"This latest passage of the budget law has angered the Kurds and you wonder how they're going to resolve it," says Kate Dourian, Middle East editor at energy specialist Platts.
"They had a lot of discussions before the parliament, they couldn't reach an agreement and then the budget law was passed regardless.
"The gap between the two sides is now wider than before."
And, Ms Dourian told the BBC, this poses problems for international oil firms who rely on exports for their profits.
"They are shipping a little bit to Turkey [by road] and some of it's being sold to the local market, obviously at much below market rates," she says.
"So you wonder just how long they can hang on in there."
'Saner heads'
Despite this bleak assessment, Mr Hayward appears more relaxed.
He says his firm's output of 80,000 to 100,000 barrels a day for the domestic market is enough to create a "robust" business, though he admits this could grow by up to 50% if Genel were exporting.
"Clearly we'd rather be working in an environment where there wasn't that sort of dialogue or row going on, but despite all of that you have to look at enormous improvement on the ground," he told BBC World's Middle East Business Report.
"To realise the full potential of the Kurdistan oil and gas - for the benefit of all Iraqis and for the benefit of Kurdistan and for the benefit of the contractors who are invested - clearly it would be much better if the oil was being exported.
"I believe that at some point in the not too-distant future saner heads will come to the table and there'll be an agreement.
"We're going to get to a place where people realise this is too big an opportunity for all of Iraq."
'Vocal investors'
If all this was purely about Iraq's overall oil production volumes, then the stoppage in exports from Kurdistan might not be such a big deal. Last year little more than 10% of Iraq's average of 3.2m barrels of oil a day came from Kurdish areas.
This means that security threats, deeply entrenched corruption and unattractive investment terms, all factors in the south blamed for muted interest in Iraq's last round of exploration licence auctions, are hurting efforts to ramp up production more than a stoppage of Kurdistan's exports, say analysts.
Instead, some industry experts believe that Baghdad's concerns about Kurdistan's oil policy run much deeper, with Baghdad fearing it threatens Iraq's fragile federation - especially if other provinces with deep oil reserves develop their own aspirations to self-rule.
"Kurdistan gets a lot of attention because you have foreign companies there who are vocal, there are investors who like to talk about it," says Robin Mills, head of consulting at Manaar Energy.
"And of course for Kurdish people, oil revenue is the basis that Kurdistan can be autonomous and perhaps could be an independent state at some point.
"So while economically the south is far more important, politically Kurdistan is very important because who controls oil in Iraq goes to the very heart of Iraq as a united entity."
'Key player'
Baghdad insists that the Kurdistan Regional Government (KRG) has no right to sign exploration deals with foreign companies.
But those firms have gone ahead regardless. Most significant of these has been ExxonMobil, which was already developing the West Qurna-1 field in southern Iraq - prompting Baghdad to threaten to revoke ExxonMobil's contract there.
But these threats have not been carried out, and since then other oil majors including Total and Chevron have also entered Kurdistan.
If a much-talked-about pipeline ever came to fruition that allowed Kurdistan's oil to be exported to Turkey - bypassing the Baghdad-controlled route - the political ramifications in the region would far outweigh the row between northern and southern Iraq.
And stability in Iraq's oil sector goes far beyond Iraq's people, says Mr Mills.
"Iraq is one of the key players - perhaps the key player - in the global oil market in the next decade.
"Whether Iraq succeeds in expanding its production determines whether the oil market is going to be relatively well-supplied and prices are lower, or whether we're going to have another decade of high oil prices," he says.