Mortgage lending boost from first-time buyers, says CML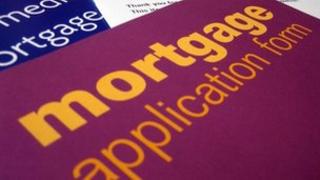 First-time buyers continue to account for a large chunk of the UK mortgage market, lenders' data suggests.
This group of house buyers took 42% of all home loans for house purchases during January, the Council of Mortgage Lenders (CML) said.
The rate has been unchanged for three months, but it is still higher than the average rate seen over the past decade.
In general, UK mortgage lending was down on December, but higher than in January 2012, the figures show.
The number of mortgages advanced for house purchases in January stood at 38,300, down nearly 17% on December, but up nearly 11% on a year earlier.
'Favourable' market
Mortgage interest rates are at a very low level at present, as lenders scramble for custom.
The Funding for Lending scheme, which is aimed at encouraging lending by offering cheap funds to mortgage and loan providers, has helped to push down these costs for first-time buyers.
Recent Bank of England figures showed that lending by banks across the board remained conservative.
The CML said that the market was "more favourable" for first-time buyers at present.
In the past decade, first-time buyers have tended to make up about a third of mortgage activity for house purchases. Before 2002, it was typically about 50%.
However, on average first-time buyers still have to find a deposit of 20% of the value of a home to secure a mortgage.
The industry has welcomed the interest from first-time buyers.
"Life is becoming easier for first-time buyers," said Richard Sexton, director of e.surv chartered surveyors.
"Although deposit requirements are still high, rates are lower and banks are more willing to lend to lower income borrowers.
"Funding for Lending can take some of the credit: it is plugging the punctures in the mortgage market and stopping it from falling flat."
Ashley Brown, director of mortgage broker Moneysprite, said: "The return of the first-time buyer relative to January last year is particularly welcome. Without the first-time buyer, the market cannot improve."
But David Whittaker, managing director of Mortgages for Business, said: "Although rates have fallen to historic lows, the big deposits lenders require from borrowers in order to access them means plenty of potential buyers are still being left high and dry."