Bank behaviour harming capitalism, says IoD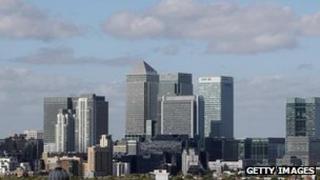 A business leaders' group has blasted the "unacceptable" levels of banker bonuses, saying it is hurting the reputation of capitalism itself.
"Shareholder value has been destroyed, capitalism has been given a bad name," said Simon Walker, director-general of the Institute of Directors (IoD).
"Yet vast rewards packages are still being handed out," he added.
It comes after more than 500 workers at Barclays and RBS were revealed to have earned more than £1m last year.
Five members of staff were paid more than £5m, Barclays said, but this did not include the chief executive, Antony Jenkins, who received £2.6m. At RBS, total pay for top directors and eight executives was £21m.
Both banks have been hit by scandals, including attempts to rig the Libor interest rate and the mis-selling of payment protection insurance. RBS is still 84%-owned by the taxpayer.
"At the weekend, we saw reports that 521 members of staff at Barclays and RBS earn more than £1m a year," Mr Walker said in a speech to the Chartered Institute of Public Relations.
"Thousands of people in those two companies alone earn more even than the prime minister. This is in scandal-hit companies who have had a far from successful year."
He praised the efforts made by Barclays' new boss Antony Jenkins, in particular, to change its banking culture.
"As you can imagine, given my job, I'm not a rabid anti-capitalist," Mr Walker added. "But even I believe that this state of affairs is unacceptable."
Bonus caps
Recently, the European Union reached an agreement to cap bank bonuses across the 27 members in the trading bloc.
The UK, which has Europe's biggest financial services centre in London, is opposed to any caps on bank bonuses, but it is outvoted on the issue among the member states.
Under the agreement, bonuses will be capped at a year's salary, but it can be a bonus worth 200% of their pay if there is explicit approval from shareholders.
Mr Walker added: "Just look at the EU's bonus cap - wrong-headed and counter-productive as it is, the behaviour of some of our banks makes it difficult for anyone to stand at their side to credibly fight against it.
"They are harming the whole of British business by focusing only on their own short-term self-interest."