No-frills savings and insurance products 'are ready'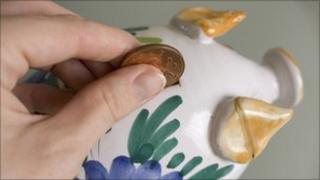 Four "no-frills" financial products have been designed and will be available for consumers shortly to buy without advice.
The UK Treasury set up a committee to create the simple savings and insurance products, in order to make it easy for savers to shop around.
Providers will use the same terms and conditions, but can compete on price, service and value.
However, it is not yet clear when the first products will be available.
'Challenging' times
The steering group has now published its main report.
It has designed an easy-access savings account, a 30-day notice savings account, a regular savings account and a life insurance policy that it believes could be branded as simple financial products.
These must not feature any catches or surprises for customers. They should be easy to understand, easy to compare, easy to buy and easy to maintain, the Treasury ordered.
For example, the savings accounts will not include an introductory bonus feature, seen in many other accounts, that offers a higher interest rate to savers but only for a limited period of time.
Providers will apply for a kitemark for their simple products, which will allow consumers to compare them simply.
Carol Sergeant, who chairs the group, told the BBC that the industry was committed to introducing these products.
And Adrian Coles, director general of the Building Societies Association, said: "We understand that the current economic climate is challenging for savers and that squeezed household budgets, coupled with lower interest rates, are currently a disincentive to saving.
"Nevertheless, the report makes some helpful proposals, based on consumer research for the further development of products under the 'simple products' banner."
Richard Lloyd, executive director of consumer group Which?, said: "Consumers should not have to tackle pages of terms and conditions and they should be told clearly what rates and charges apply, so they can shop around more easily and get a fair deal. We now look to the financial services industry to deliver on these proposals."
A review will be carried out in a year to ensure progress has been made on the introduction of these products.
Previous attempts
Difficulties in comparing existing savings products mean people are unlikely to switch, sticking instead to the status quo that might cost them more or be the wrong choice for them.
In some cases, they simply do not save at all.
But a similar scheme to strong-arm providers into providing simple products, introduced by the previous government, failed to take off.
In 1999, the Labour government attempted a similar campaign. This was known as the Cat - fair Charges, Access and Terms - scheme and aimed to encourage the take-up of savings products among low-income families and among those with limited experience of financial services.
However this failed to make a significant impact, while price caps made them less attractive for providers and not very profitable.