Alibaba appoints Jonathan Lu Zhaoxi as chief executive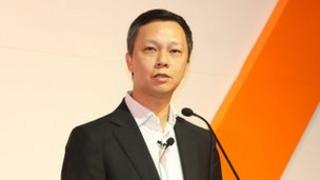 China's e-commerce giant, Alibaba Group, has named Jonathan Lu Zhaoxi as its new chief executive.
Mr Lu will replace the group's founder Jack Ma, who announced in January that he was stepping down to make way for a younger crop of leaders at the firm.
The 43-year-old Mr Lu joined Alibaba in 2000 and has led the group's various key divisions, including the online payment service Alipay.
Mr Ma founded Alibaba in 1999 and will remain the group's executive chairman.
"Jonathan and I have worked together for 13 years," Mr Ma said.
"Not only has he contributed to building our culture and organisation and developed many talented people, he also possesses a unique leadership style and charisma."
'Pressures and challenges'
Alibaba Group is the parent company behind Alibaba.com, an online marketplace for small businesses, Taobao, a shopping site for consumers, as well as Alipay, an online payment service.
It was one of the earliest entrants in the Chinese internet market and has enjoyed tremendous success as China has gone on to become the world's biggest internet market with more than 500 million users.
The size of the market is expected to grow even further as more users in rural areas get access to the internet.
But as the market has grown, so has the competition.
As a result, Alibaba has been trying to restructure its operations to ensure that it continues to grow and dominate the market.
Last year, it bought back its shares in Alibaba.com, the only listed division of the group, and took it private.
Over the past few months it has announced a plan to break up its business into 25 different units that will be led by different executives.
The newly appointed chief executive said the firm needed to ensure that it continued to satisfy its customers if it was to maintain its dominant position.
"We live in an era of rapid change where pressures and challenges co-exist, but we must not forget our purpose and keep in mind the premise of 'Customer First'," Mr Lu said in a statement.
Mr Lu will take charge of the group from 10 May.