Bank of Ireland: Andrew Tyrie writes to FSA over rate rise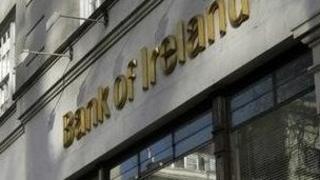 The chairman of the Treasury Committee has written to financial regulators about Bank of Ireland's plan to raise customers' mortgage tracker rates.
In a letter to the Financial Services Authority, Andrew Tyrie said he was "very concerned" and asks if it was a case of product mis-selling.
Despite the Bank of England base rate remaining at 0.5%, Bank of Ireland is almost doubling its tracker rate.
Bank of Ireland, which owns Bristol and West, said it had no comment.
About 13,500 mortgage borrowers with Bank of Ireland and Bristol and West will see the cost of their home loan rise.
It has the power to change the interest on these home loans, even if the Bank rate does not move. But mortgage brokers have criticised the move.
Bank of Ireland blamed the rising cost of providing these mortgages and new rules on the amount of capital it must hold in reserve. Banks must hold a higher buffer of capital to a certain level in order to keep to European rules.
From 1 May, the bank will raise the mortgage rate for residential customers from, typically, the Bank of England rate plus 1.75%, to the Bank rate plus 2.49%.
It will then raise it further, to Bank rate plus 3.99%, on 1 October. Buy-to-let customers will see their rate increased to Bank rate plus 4.49% on 1 May.
Mr Tyrie's letter, to FSA managing director Martin Wheatley, asks "what action the conduct arm of the FSA will be taking in response to the action by the Bank of Ireland".
He sent a list of questions to Mr Wheatley, including:
Will you treat this as a prima facie case of product mis-selling?
Will you be investigating whether the mortgage agreements concerned contained unfair clauses?
What discussions have you had with the Financial Services Ombudsman about the Bank of Ireland decision?
What contacts and discussions have you had with the Bank of Ireland about this decision, and at what level of seniority?
Mr Tyrie, who also chairs the Parliamentary Commission on Banking Standards, has given the FSA until Monday to respond.
Last week, Andrew Montlake, of mortgage broker Coreco, said: "This is a shocking move by the Bank of Ireland and, it could be argued, shows a blatant disregard for the fortunes of their customers.
"One of our clients has been hit with a sudden rise of 2.74% on a rental property that was ticking along nicely, which increases payments by £776 per month.
"It is evident that they want to reduce their back book and dispense with clients they do not see as profitable, but there must be a less dramatic way to do this," he said.