Japan growth figures lift recovery hopes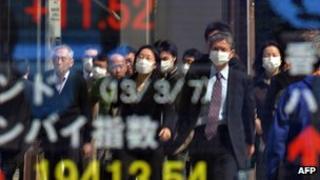 Japan's economy stopped contracting in the final quarter of 2012, figures have shown, raising hopes of a recovery.
Gross domestic product (GDP) grew at an annual pace of 0.2% in the quarter, the government said, up from its previous estimate of a 0.4% contraction.
Compared with the previous quarter, GDP showed no growth, an improvement on the initial estimate of a 0.1% contraction.
Higher than expected corporate spending and household consumption are thought to have contributed to growth.
Prior to the fourth quarter, Japan's economy had contracted for two consecutive quarters from April to September, hindered by a strong yen, shrinking exports in Europe and economic damage from a diplomatic row with China.
Separately, the Finance Ministry said Japan recorded a current account deficit in January - which is the broadest measure of trade with the rest of the world - of 364.8bn yen ($3.8bn; £2.5bn), its third straight month of deficit.
'Picking up'
Analysts said the latest GDP figures suggested that the worst was over for the Japanese economy.
Hideki Matsumura, economist at Japan Research Institute, said the figures "confirmed that the Japanese economy has hit bottom and started picking up".
Mizuho Research Institute's Yasuo Yamamoto said: "The bottom of the latest recession was probably in November.
"Looking at the latest trade data, I would say recovery in exports will still be slow in the January-March quarter, so GDP growth in the same quarter would be also modest.
"The question is when the effects from public spending in the government's stimulus package will appear, and I think it will be probably in the April-June quarter."
Prime Minister Shinzo Abe, who was elected in late December, has pledged to turn around the economy by boosting prices to defeat deflation and a massive spending spree that he says will add 600,000 jobs.
He recently nominated Haruhiko Kuroda, who is president of the Asian Development Bank, to become Japan's next central bank governor.
A strong supporter of Mr Abe's economic strategy, Mr Kuroda said he would aim to achieve quickly the 2% inflation target set by the central bank and government in January.