Federal Reserve: 17 out of 18 US banks pass stress tests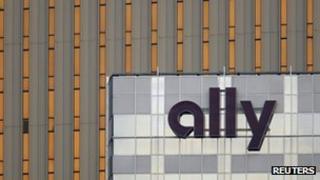 US banks have enough capital to withstand a severe economic downturn, the Federal Reserve has said, after announcing that 17 out of 18 major banks passed its annual stress tests.
Government-controlled Ally Financial, the rescued former finance arm of General Motors, was the only bank to fail the test of capital strength.
Wall Street banks Morgan Stanley, at 5.7%, and Goldman Sachs, at 5.8%, were the next two lowest.
The tests have happened since 2009.
"The nation's largest bank holding companies have continued to improve their ability to withstand an extremely adverse hypothetical economic scenario and are collectively in a much stronger capital position than before the financial crisis," the US central bank said in a statement.
Under the tests' most severe scenario, unemployment peaks at 12.1%, share prices drop more than 50%, house prices fall more than 20%, and the largest trading firms suffer a sharp market shock.
"Under this scenario, projected losses at the 18 bank holding companies would total $462bn (£308bn) during the nine quarters of the hypothetical stress scenario," the Federal Reserve said.
The aggregate tier one common capital ratio - assets held in reserve as a buffer against financial troubles - would fall from an actual 11.1% in the third quarter of 2012 to 7.7% in the fourth quarter of 2014 in the hypothetical stress scenario.
The minimum tier one capital ratio needed to pass the test is 5%.
At 1.5%, Ally Financial was the only one to miss this target under the scenario.