More women work past the age of 60, says the IFS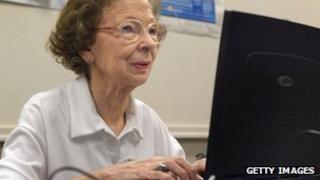 More women in the UK are working past the age of 60 because of the raising of the state pension age, according to the Institute for Fiscal Studies (IFS).
The study found that 27,000 more women have continued to work past the age of 60 since the pension rules were changed nearly three years ago.
Since April 2010, the state pension age for women has been progressively increased.
Currently women have to be at least 61 years and five months to claim it.
"Increasing the age at which women can first receive their state pension has led to significant numbers of women deferring their retirement," said Jonathan Cribb of the IFS.
"Over half of of women aged 60 are now in paid work for the first time ever," he added.
Employment
In April 2010, the state pension age for women was increased from 60 to 61. The study looked at those women who just missed out on claiming a pension as a result of that change.
It found that employment rates within the 60 year-old age group increased by 7.3%, resulting in 27,000 more women continuing to work.
However, the figures show that another 5,000 women would also have liked to continue to work, but were unable to find jobs. That resulted in a 1.3% increase in the number of women aged 60 who were unemployed.
The study also shows that the government has saved more than £2bn by not having to pay out pensions at the age of 60.
Husbands also affected
The IFS said the reasons for women working longer were partly financial.
But it also suggested that the state pension age was becoming "an anchor" for decisions about when to retire.
"The change in pension age could change social norms," it said.
The study also found that more husbands have continued to work, as a result of their wives getting their pensions later.
Some 8,300 more men were working than would otherwise have been the case. One reason is that husbands and wives may wish to retire at the same time.
The state retirement age for men will begin to rise beyond 65 in 2018 and will then rise in tandem with the pension age for women.
"Despite the weak performance of the economy over these two years, many have been able to limit the loss of state pension income through increased earnings," said Jonathan Cribb.