RBS to compensate customers after accounts disrupted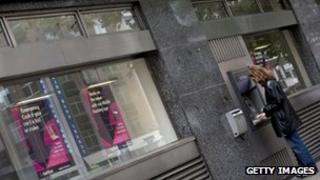 The Royal Bank of Scotland (RBS) group has said it will compensate customers who experienced disruption to their banking services overnight.
Customers at RBS, NatWest and Ulster Bank faced problems with online and phone banking, cash withdrawals and debit card payments at on Wednesday evening.
There were reports of some customers having their cards "swallowed" at cash points.
RBS said services have been restored.
However, some customers said they still could not access their accounts.
RBS has blamed the problem on a computer malfunction, but was not able to give further details.
"This problem was caused by a hardware fault and was not related to the issues we experienced last summer. It was much easier to fix, though clearly an unacceptable failure," said a spokesperson.
It is thought the problem originated in the UK.
Last summer millions of RBS customers were unable to access their accounts for an extended period, because of a software issue.
Compensation
Account holders wanting compensation are being asked to contact the bank. "We will look at it on a case-by-case basis," said a spokesperson at the bank's Edinburgh headquarters.
One customer, Darren Reuben, has already been compensated by NatWest.
He had to get someone else to pay for his dinner at a restaurant on Wednesday evening.
He was first of all offered £30 in compensation, and when he declined, he was then offered £70, to cover the embarrassment caused.
"It was paid into my account straight away," he told the BBC. "While it was embarrassing, they did me a good turn."
RBS is asking anyone affected to call them and explain the difficulties they experienced.
"Any customer who was left out of pocket due to this outage should get in touch so we can put things right for them," said a spokesperson.
'Disappointed'
The bank, which has 25 million customers in the UK, has apologised to those affected.
"We are disappointed that our customers have faced disruption to banking services for a period yesterday evening, and apologise for that."
The bank is insisting that all of its services are now back to normal, apart from some "isolated incidents".
However, some customers, including Steve Kitchen from Manchester, said their problems had still not been fixed by 10am on Thursday.
"I'm awaiting a further update call. It's a shambles!" he said.
Previous problems
In June 2012, 16 million customers of RBS, NatWest and Ulster bank had difficulties with cash withdrawals, phone and online banking and debit cards, which the bank blamed on a software update.
It said there had been an error in its Edinburgh office, involving the maintenance of its systems.
At the time of last year's incident, Stephen Hester, the chief executive of RBS, said: "We have to learn lessons from what went wrong here and try to make (such failures) less likely in future."
The disruption was one reason why Mr Hester declined to accept part of his annual bonus.
In total, £125m was paid out to customers in compensation last year, and branch opening hours were extended to help customers who experienced difficulties.
What went wrong?
Beyond describing it as a "hardware" issue, RBS has not yet been able to explain why its systems failed.
But some analysts are critical about the age of some of the bank's IT facilities.
"We just have a lot of legacy systems out there," said Frances Coppola, a former RBS employee and an independent banking analyst.
"Some of those systems haven't been replaced for a long time," she said.
But some accuse RBS of taking its eye off the ball.
"The bank has given too much priority to grand schemes and acquisitions, rather than running a day-to-day bank," said Alastair Winter, chief economist at Daniel Stewart Securities.
Any customers still experiencing difficulties are being asked to call 0845 7242424 if an RBS customer or 0845 7888 444 if a NatWest customer.