Asian markets climb after Dow Jones hits record high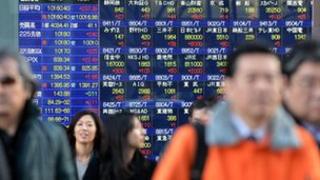 Asian stocks have continued a global rally after New York's main Dow Jones share index hit a record high.
Equity markets in Asia, the US and Europe have been buoyed by central bank attempts to revive economic growth by pumping cash into the financial system.
Analysts said that this has helped ease fears of continuing political problems and slower corporate profit growth.
In Asia on Wednesday, the main indexes in Japan and Australia hit their highest levels since September 2008.
Japan's Nikkei rose 2.1%, while Australian shares were up 0.8%. Shares in Hong Kong, Shanghai and Singapore also posted gains.
The dollar eased 0.2% against a basket of key currencies while copper and crude oil prices rose.
Back in the black
The rally on Wall Street means the main US indexes have erased the losses brought on by the global financial crisis.
The Dow closed at 14,256 after investors were buoyed by signs of recovery in the US housing market in recent months, and data showing growth in the services sector.
The share index ended the day more than double its low of 6,547 in March 2009.
London's FTSE 100 closed at a five-year high on Tuesday.
Analysts said sentiment was being boosted mainly because of the stimulus programs being conducted by the US, Europe and Japan.
In the US, Federal Reserve chairman Ben Bernanke has engaged in a campaign of massive bond-buying while keeping interest rates at a record low to help support the world's largest economy after the global financial crisis in 2008.
The program known as quantitative easing or QE3, is in its third phase, and has been made open ended.
"To be sure, it was Bernanke's reassurance, at last week's congressional testimonies on monetary policy, to keep QE3 on its present course that turned a worried stock market into a record high,'' said analysts at DBS Bank in Singapore.
The European Central Bank and the Bank of Japan have also taken steps to boost liquidity.
'Easy money'
However, despite the positive sentiment on the markets analysts said there were risks on the horizon.
China's move to curb high property prices, the impact of the US spending cuts as well uncertainty after the elections in Italy could still weigh on investors.
These concerns, however, are for now being overshadowed by the notion that central banks will continue to support the fragile global economic recovery.
"That's fantastic testament to the power of easy money, in the face of doubts about the US economy now that fiscal spending is being cut back," said Kit Juckes, from Societe Generale.
The European Central Bank, the Bank of Japan and the Bank of England will hold their policy meetings on Thursday.
Most analysts expect the three central banks to continue their policies aimed at spurring growth in their economies.