The pensioners who choose to work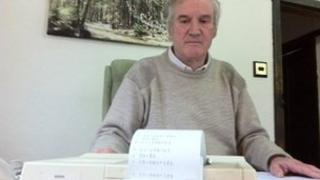 When accountant John Timmis turned 65, he decided that the idea of stopping work and taking his state pension just did not add up.
"I wanted to keep myself active and enjoyed what I was doing, so I saw no reason to stop," he says, sitting at his desk in his office at home.
"When I stop enjoying it, that's when I will give up."
The father of four, and grandfather of six, is one of a growing band of people who remain in work despite passing state pension age.
His motivation is not primarily financial, although he says it is "nice to have the lolly". He has deferred his state pension and says it is a lifestyle choice to carry on.
He started work as a 17-year-old, and expects to have many years to come to enjoy his retirement.
Many other workers of pension age feel that they have to carry on, having realised that their pension provision is not sufficient to allow them a comfortable retirement. The default retirement age has now been phased out, so most can carry on for as long as they want to.
As a result, some 12% of men above the state pension age of 65 were in employment in the third quarter of last year, according to the latest official figures from the Office for National Statistics (ONS).
Some 11.6% of women were working beyond state pension age during the same period.
'Missing work'
This was the first time since comparable records began in 2005 that more men than women worked beyond state pension age.
This might be the result of the state pension age for women getting later - it is now approaching the age of 62 and will eventually move to equity with men.
Yet, it may also be the effect of the financial situation on family finances, and the lower rates for annuities. An annuity is a pension income for the rest of somebody's life that is bought with a pension pot.
There is also the effect of a fitter and healthier population, with life expectancy on the rise.
On Friday, the Institute for Fiscal Studies reported that more women were working as a result of the increase in the state pension age.
But since April 2010, 5,000 women would also have liked to continue to work, but were unable to find jobs, the IFS said.
People aged over 50 who responded to recent survey by insurer LV suggesting they would work beyond state pension age, said that they would do so for six years on average.
Of those who had retired and then returned to work, nearly a third said that they were too young to retire, and a third said that they missed working life.
They may also be inspired by some famous faces who continue to work long after they could have sat back and drawn their pension.
They include the Manchester United football manager Sir Alex Ferguson, who is aged 71, and acting great Dame Maggie Smith, who is 78.
Home working
The employment rate for men aged over state pension age was relatively stable in the 1990s, according to the ONS, at about 7-8%.
Only in the last couple of years has it risen to its present level.
Meanwhile, the rate for women rose from nearly 8% in 1993 to its current level.
The majority work part-time and more are self-employed than among younger workers, with nearly a third working for themselves, the latest figures show. However, many people simply stay with the same employer who they have been with for years.
Some experts suggest that the growth of the internet has added to the temptation to carry on working and supplement a pension income.
Many, like Mr Timmis, use the opportunity of remote working to cut out the daily grind of commuting and set up an office at home.
Choices
So what are the implications for those who decide to stay in employment?
Malcolm McLean, consultant to actuarial firm Barnett Waddingham, says that there are four options regarding these individuals' state pension. They are:
Drawing their state pension, in addition to their pay for work
Holding off their state pension and taking it as a lump sum after a year, although this option may be closed down by about 2017
Deferring their state pension for an increased amount when it is eventually drawn
After drawing the state pension, people can change their mind once, and defer it until a later date
The picture can be a little more complicated for workplace pensions, not least because employers make a contribution to the employee's pension pot.
Joanne Segars, chief executive of the National Association of Pension Funds (NAPF), says: "People who want to keep working past retirement age can usually delay taking their workplace pension. How this happens depends on the employer and the type of pension, so people should check carefully.
"Some employers will continue to pay into the pension, others will not, and some will move the worker into a new type of pension. With final salary pensions the worker might get an enhancement to their pension if they delay it by a few years. People with a 'defined contribution' pension can simply hold off on buying an annuity.
"A lot of people decide to take their full workplace pension and also continue working part-time."
Pension forecasts
Yet, the performance of some of these pension schemes has prompted a concerning forecast for those who are just starting out at work, but would hope to retire at a similar age to their parents.
Douglas McWilliams, chief executive of the Centre for Economics and Business Research, says that today's 20-year-olds will have to work until they are aged at least 75.
Interest rates and annuity rates will remain low, he says, creating little income for those preparing for retirement.
"Workers could save more," he said in a recent lecture. "But they are unlikely to do so and even if they did so around the world, they would only add to the glut of savings that is the fundamental cause of the problem."
If he is correct, then workers may find that carrying on in employment, like Mr Timmis, may be a matter or necessity rather than a matter of choice.