Standard Chartered profits rise despite huge fine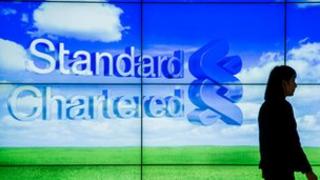 Standard Chartered bank managed to increase profits last year despite being hit by a huge fine for breaking sanctions on Iran.
The London-listed firm saw pre-tax profits rise 1% to $6.9bn (£4.5bn), just short of analysts' forecasts.
The bank also said it had cut its bonus pool by 7% after the $667m fine from US regulators for breaching sanctions on Iran and three other countries.
Standard has ridden Asia's boom through the last decade.
Sir John Peace, the bank's chairman, said in a statement that he recognised there was still work to be done to rebuild public trust in banks, and that questions remain about how banks reward their management and staff.
He said: "We know that we will be held to our brand promise, Here for Good, and continue to work hard to embed this commitment in everything we do.
"We are not pretending we will get everything right, but Here for Good means we will try to do the right thing."
The bank said that income rose 8% to $19.07bn, and that it hired about 2,000 people last year.