BOJ nominee Haruhiko Kuroda promises to beat deflation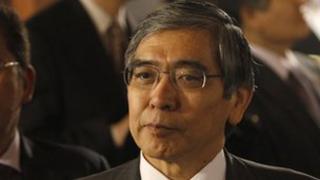 Haruhiko Kuroda, nominated to be the next head of Japan's central bank, has promised aggressive steps to raise inflation to 2%, sending Japanese shares higher.
He said the Bank of Japan had not bought enough assets and should buy longer-term government bonds.
Picked by Prime Minister Shinzo Abe, Mr Kuroda needs approval from parliament.
Japan's economy has struggled with deflation for many years, seen as a challenge to sustainable growth.
"If I am approved as Bank of Japan governor, I believe it will be my most important duty to ensure the price stability goal [of 2% inflation] is reached as soon as possible," Mr Kuroda told a parliamentary confirmation hearing in his first public comments since he was nominated.
It marks a departure from the current governor, Masaaki Shirakawa, who was not an advocate of aggressive easing measures. Mr Shirakawa steps down on 19 March.
Japanese shares were higher on Mr Kuroda's comments with the Nikkei index hitting a new high for 2013 in early trading.
Mr Kuroda's comments echoed the election promises made by Mr Abe that the central bank needs to do more to convince markets that it will take steps to ease monetary policy.
"I believe that [the BOJ] is not doing enough in terms of the size of its asset purchases or the range of assets being bought," said Mr Kuroda, who is currently president of the Asian Development Bank.
After mounting pressure from the new government, the central bank raised its inflation target to 2% last month.
It was seen by analysts as a major step towards renewing domestic demand.
Currency war?
To meet that 2% inflation target, Prime Minister Abe has put forth an aggressive ultra-easy monetary policy which will pump more money into the economy and also weaken the yen.
The weaker Japanese currency would boost exports and help spur economic growth.
But there are fears that a prolonged and deliberate weakening of the Japanese yen could spark a currency war, if other countries that trade or compete with Japan were to also take steps to devalue their currency, in order to gain a trade advantage.
So far, Japan's policies have escaped criticism from other central bankers. When the Group of 20 nations (G20) met in Moscow recently, finance ministers from the member countries signed off a communiqué that did not criticise Japan for weakening the yen.