Megaupload case: US prosecutors win evidence appeal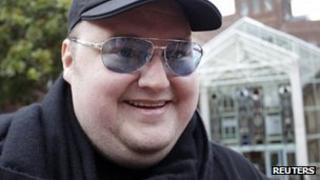 New Zealand's Court of Appeal has said that US prosecutors do not need to disclose full evidence in their fight to extradite Megaupload's Kim Dotcom.
Mr Dotcom has been accused of copying and distributing music, films and other content and faces a jail sentence of up to 20 years if convicted in the US.
A lower court had previously ruled that the defence team needed access to the evidence before the extradition hearing, which is due in March.
Mr Dotcom has denied the charges.
In its judgement, the Court of Appeal said that full disclosure of evidence was not necessary at the extradition hearing.
It ruled that the hearing was not being held to determine whether Mr Dotcom was guilty of the charges, but only to decide whether the US authorities had a valid case for extradition.
"It is for the requesting state to decide what information it wishes to put before the requested state in support of its request," the court said.
'Fight goes on'
Mr Dotcom, who founded Megaupload in 2005, has been accused of copyright theft, money laundering and racketeering fraud.
Prosecutors allege that pirated movies and other content shared through his site cost copyright holders more than $500m (£322m) in lost earnings, making it one of the biggest cases of its kind.
The US Department of Justice alleges the firm made about $175m from advertising and membership fees as a result of its activities.
Mr Dotcom's lawyers reject the charges, saying the site simply offered an online storage service and that the majority of its traffic was "legitimate".
Despite being such a high-profile case, the saga has been beset by delays.
Mr Dotcom was arrested in Auckland in January last year in a raid requested by the US Federal Bureau of Investigation.
However, the case generated controversy in New Zealand over the way the police and intelligence services gathered evidence before the raid. As a result, Mr Dotcom won an apology from the country's prime minister.
Mr Dotcom, who remains on bail and has since launched another file-sharing site called Mega, indicated that he would appeal against the latest judgement.
"The fight goes on. Next is the Supreme Court of New Zealand," he tweeted after the court's decision.