Rolls-Royce unveils 'most powerful' model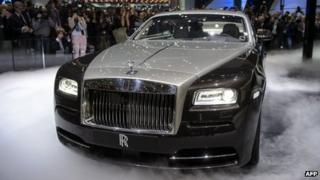 Rolls-Royce Motor Cars has officially unveiled its most powerful model yet at the Geneva motor show.
The 624 horse power Wraith will travel from 0-60mph (0-100km/h) in 4.4 seconds and cost more than £200,000 ($300,000) when it goes on sale later this year.
The car was designed to change people's perception of the luxury marque, chief executive Torsten Muller-Otvos told BBC News.
"I'm confident it will attract a lot of new customers to the brand," he said.
'Not a competitor'
The Wraith bears a passing resemblance to Bentley's Continental GT grand touring model, but Mr Muller-Otvos was eager to stress that he did not see it as a rival.
"I wouldn't see the Continental as a competitor, definitely not," he said. "We are operating in a different price segment, well beyond £200,000.
"But I wouldn't be surprised if some existing Bentley customers would buy the Wraith - many people in this segment don't see the Continental as exclusive any more."
'Friendly rivals'
Bentley's board member in charge of sales and marketing, Kevin Rose, acknowledged that the two marques are not direct rivals, as its best-selling models start at about £130,000.
"It's partly true, as we're not in the same price categories, but many of both our and their customers have six or seven cars, so many of them will have both a Rolls and a Bentley," he told BBC News.
"But I'm startled to hear they don't think Bentley is luxurious," he said while showing off the carmaker's latest model, the redesigned Flying Spur, ahead of Tuesday's official unveiling.
Indeed, if Wraith is encroaching on Continental GT territory, made up of ultra-luxurious yet sporty cars, you could say the new Flying Spur is offering a decent alternative to Rolls-Royce's Ghost.
Unlike the previous Flying Spur, which was essentially a stretched Continental GT, this car has been created from scratch and the Continental link has been severed.
"But we don't overlap too much," said Mr Rose. "We're rivals on a friendly basis. They're dominant in their segment [of the ultra-luxury car market], we're dominant in ours - which, as it happens, is much larger." Consequently, Bentley sold 8,510 cars last year, while Rolls-Royce sold 3,575.
Bentley's sales have also been growing more quickly than Rolls-Royce's in recent months.
Last year, Bentley sales rose 22%, following a 37% rise in 2011 and an 11% rise in 2010.
By comparison, Rolls-Royce, which is owned by BMW Groups, saw sales rise about 1%, a dramatically slower growth rate than the 31% seen in 2011 and the 150% seen in 2010.
Mr Muller-Otvos nevertheless said he was optimistic about the future as the segment for "ultra-luxurious" cars is growing in line with the rising number of "ultra-high net worth individuals".
Brand builder
Mr Muller-Otvos said the V12-powered Wraith should help change attitudes towards Rolls-Royce, which currently sells the somewhat less agile and powerful Phantom and Ghost models.
"In general, when we make a new model, our intention is not just pure volume. We also want to add new facets to the brand," he said.
"I wouldn't be surprised if even Ferrari drivers, tired of cars that are not comfortable enough for everyday driving, would switch," he said.
"But the Wraith is more of a gentleman's 'gran turismo'. Sporty is probably not the right expression for a Rolls-Royce."
You can follow Jorn Madslien's coverage from the Geneva motor show on Twitter @jornmadslien.