Pension options to be made clearer under ABI code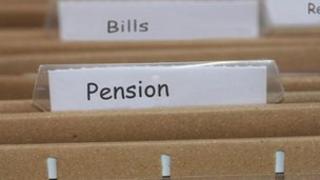 A new code will ensure hundreds of thousands of people approaching retirement each year have their pension options explained by their insurer.
The Association of British Insurers (ABI) has drawn up the code, which comes into force fully on 1 March.
Insurers must make clear to their pension savers that there are options to shop around for retirement incomes, known as annuities.
But some groups have suggested that the programme does not go far enough.
Preparation letters
Annuities turn an individual's savings in a defined contribution pension into an annual retirement income paid for the rest of their life.
Nearly 400,000 annuities were sold to retirees last year, bought for an average of £28,000 from their pension pot.
There has been criticism in the past that insurers which provide the private pension schemes do not do enough to explain that people can shop around for their annuity when they retire. They need not buy the annuity from the insurer which has been overseeing their pension savings for years.
Last year, 55% of investors with pensions held by insurance companies bought their annuity from their existing pension company.
So now these insurers will not put annuity application forms in their retirement packs. The ABI will also publish details of the range of annuity rates available to make it clearer for people who want to shop around.
Other details in the new code include:
Insurers sending a letter to customers two years from retirement to encourage them to consider their retirement options
Follow-up details on options such as combining small pension pots sent six months, and then six weeks, from retirement
Explaining how customers with medical conditions, or smokers, can get a better annuity deal
"Increasing life expectancy means that many people will be receiving a pension for longer than they were paying a mortgage so the need to make the right decisions at retirement has never been more important," said Otto Thoresen, director general of the ABI.
"The timely, clear and relevant information provided under the code will significantly increase the number of people reaching retirement with the confidence to make the right pension decision."
'Further to go'
Any insurance companies that provide pensions and are members of the ABI must sign up to the code. Some 95% of defined contribution pension providers are ABI members.
The ABI will review the impact of the code in 2014, but some commentators have already suggested it will not solve the lack of choice for retirees on its own.
"The ABI's work is welcome, and an important step forward, but we believe that there is further to go if we are to maximise the chances of people securing the best possible retirement income," said Darren Philp, director of policy at the National Association of Pension Funds (NAPF).
"Many people approaching retirement will need more active help to get them shopping around for the best possible annuity deal. That could be through appointing an annuity adviser or broker to help them, and embedding that process as part of the pension scheme itself."
Tom McPhail, head of pensions research at Hargreaves Lansdown, pointed out that many workplace pensions, including auto-enrolment schemes, would not be covered by the code.
Meanwhile, financial services firm Annuity Direct said that confusion about the market would still push many people to seek help from their existing pension provider.
Chairman Alan Higham said no suitable directory of specialist advisers was available, and he added that a league table of annuity rates could easily become out of date.
Malcolm McLean, consultant to actuarial firm Barnett Waddingham, said: "This is a complicated and confusing area for the consumer and in my view anyone contemplating settling for an annuity should always seek independent financial advice and should be encouraged to do so.
"This code has been a long time in the making and it has only emerged after considerable pressure has been put on the ABI to act in the better interests of consumers and not seemingly in regard to the profit motives of individual insurance companies.
"The next step is for the annuity rates of all the insurance companies acting under the code to be published. If this serves to drum up competition and highlight those offering the best and the worst rates that can only be a good thing."