Mortgage market boosted by lending schemes, says Redrow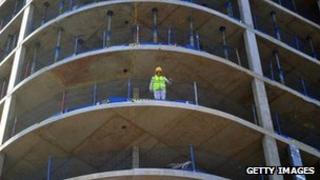 The UK mortgage market has been boosted by government schemes to help first-time buyers, according to homebuilder Redrow.
The company praised the government-backed NewBuy scheme, which enables people to get a 95% mortgage.
Redrow also said the market had been helped "significantly" by the Funding for Lending programme.
It comes as several UK homebuilders, including Redrow, have reported large jumps in profit.
"If the current trend in reduction of mortgage rates continues, it will undoubtedly assist in the housing market's gradual return to more normalised conditions," Redrow said.
Funding for Lending is a scheme run by the Bank of England, which is offering up to £60bn of cheap funds to banks and building societies if they then lend the money to individuals and businesses.
Redrow also noted a significant difference between the housing markets in Wales and England.
"Wales, where NewBuy is not yet available and there is no proposal for an equivalent of FirstBuy, we are not seeing the same stimulus to the new-homes market evident in England," it added.
The NewBuy mortgage guarantee scheme is backed by the government and is aimed at promoting the sale of newly built homes in England.
It allows a selection of big lenders to offer mortgages to the prospective buyers of these homes who only have a 5% deposit, rather than the 20% or more that is currently standard.
FirstBuy is aimed at first-time buyers, with the Homebuy Agency and house builders offering a 20% equity loan to help people searching for their first home buy a newly-built property.
'Criteria not eased'
Jonathan Harris, director of mortgage broker Anderson Harris, told the BBC that the Funding for Lending Scheme has helped to push down mortgage rates.
"This is boosting the market, improving confidence and making it easier for first-time buyers to get on the housing ladder."
But he added that while rates have fallen, "the criteria have not really eased so you still need an excellent credit history in order to get a mortgage. Some would-be borrowers will still find it difficult to get funding, particularly if they require interest-only or have complex income streams."
Redrow reported that its pre-tax profits rose 50% to £23m for the six months to December from the same period in the prior year, driven by an increase in the average selling price and the volume of private net reservations.
"Given the strong pipeline of new sites and the modest improvement in market conditions, I am cautiously optimistic that Redrow's strong recovery is set to continue," chairman Steve Morgan said.
Redrow's results come a day after other homebuilders also reported higher profits, suggesting the housing market is slowly recovering as the government's attempts to boost mortgages gathers steam.
On Monday, Persimmon reported pre-tax profits of £225.1m for the year to 31 December, up 52% from 2011.
The company also said that attempts to revive the mortgage market were beginning to bear fruit.
"In the first eight weeks of this year we have seen (mortgage) rates come down by anything up to 45 basis points," Persimmon chief executive Mike Farley told the Reuters news agency.
"If you talk to lenders, there is a bit more of an appetite to be in the mortgage market so it's coming through on both fronts."
Also on Monday, Bovis Homes said its pre-tax profits rose 69% to £54.1m in the year to 31 December.
"After another year of substantial land investment in 2012, the group expects to deliver a strong increase in active sales outlets in 2013," said David Ritchie, Bovis chief executive.
Recently, the Council of Mortgage Lenders (CML) said that mortgage lending had picked up last year, led by a big rise in first-time buyers.
The CML said the number of first-time buyers rose by 12% to 216,000, the highest number since 2007.
However, official figures released last week showed the number of housing starts in England fell 11% in 2012.
Latest figures from the Department for Communities and Local Government showed the number of new builds started in England fell to 98,280 in 2012.
The number of housing starts peaked at 183,000 in the year ending March 2006, before dropping to a low of 75,000 in the year ending June 2009 following the financial crisis and recession.