Students warned not to get involved in money laundering
By Simon Gompertz
Personal finance correspondent, BBC News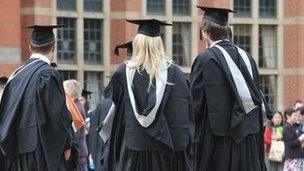 Fraud experts are warning that hundreds of thousands of people are in danger of being duped into laundering money for fraudsters.
They are being recruited as unwitting "money mules" who allow their own bank accounts to be used to disguise the proceeds of crime.
The study was carried out by Financial Fraud Action, which tackles fraud on behalf of banks.
It said that students and jobseekers could be especially vulnerable.
Some 19% of students who had been approached had agreed to become money mules.
"It's a very serious problem," warns DCI Dave Carter, an investigator from Financial Fraud Action.
"Almost every single criminal transaction that goes on depends on money mules, to turn the money from crime into something the criminals can spend themselves."
The fraudsters contact likely targets by sending out mass emails offering employment, or after sifting through CVs posted by job seekers on employment websites.
Then they offer jobs as "money transfer agents", "payment processing agents" or "administration assistants" for salaries of hundreds of pounds a week.
It looks like a proper job offer, but the real purpose is to channel cash from criminal activity through a person's own bank account, making them the fraudster's money mule.
Kayleigh Rance has been hunting for work for a year. She was taken in and even signed a contract. Then, luckily, she pulled out.
"It just makes you feel a bit sick," she complains, "I feel like I've got to go through all the websites now and take my CV off because I don't want it to happen again."
The dirty cash comes from credit card fraud, money stolen from bank accounts and other rip-offs.
Paying it into the money mule's account disguises where it comes from. The mule transfers it to an account in an overseas bank, controlled by the fraudster. It is classic money laundering.
Some money mules are paid by a straightforward cut of the cash being handled. A typical share would be 8%.
The first mules tended to be new entrants to the UK, processing funds generated by crime within their own communities in London and other major cities.
But the power of the internet has allowed the perpetrators to start targeting other groups, including students desperate to earn some extra cash.
Financial Fraud Action commissioned ICM to question 2,000 adults along with separate groups exclusively made up of students, jobseekers and new entrants to the UK.
Around 15% had received the suspect job offers. Overall 6% of those who had been approached accepted the offers, rising to 13% of the unemployed, 19% of students and 20% of new entrants.
Crimestoppers is running a campaign in universities across the UK to warn students not to be fooled into becoming involved, telling them: "Don't be a mule!".
Megan Owen, who is studying criminology, volunteered to help at one recent event in Birmingham City University.
"Lots of students we approached said they'd been affected or their friends had been affected," she said.
Extrapolating from its survey, Financial Fraud Action concludes that 380,000 people could have become unwitting money mules.
The figure is a stab in the dark, but it is clear that the problem is becoming worse and that few of those who become involved understand the risks they are running.
Their bank accounts could be frozen. If prosecuted, they could be sent to prison for up to 10 years.
"It's a colossal risk," warns DCI Carter. "In fact you are taking almost all the risk on behalf of the criminal. That's why they ask - the money mules are the ones most likely to be caught."
Related Internet Links
The BBC is not responsible for the content of external sites.