Fukushima schools re-build after disaster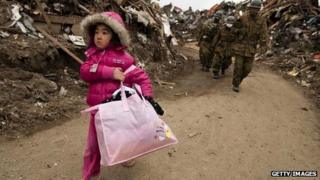 How do you re-build an education system destroyed by a disaster? The OECD's Andreas Schleicher describes the efforts in Japan, two years after the nuclear accident in Fukushima.
Fukushima's Daiichi nuclear reactor has been shut down, the clean-up operations are progressing and measuring devices are placed around virtually every public building, showing that radioactivity has fallen to low levels.
But anxiety and uncertainty about nuclear hazards are still immobilising enterprise and initiative.
While Japan continues to debate where to dump the contaminated ground, people living here are obliged to keep it piled in front of their houses.
Many of those who can afford to have packed up and left, further aggravating the economic and social hardship of those left behind.
Perhaps a bigger threat than any environmental danger is the acceptance of this new status quo, especially among school children, whose remembrance of life before the earthquake is fading.
Breaking barriers
But it's also an opportunity to rebuild the education system in a different way.
It has created the chance to break down some of the divisions in Japanese education, such as the firewall between public and private education sectors and the divide between traditional academic learning and "soft skills".
It has also seen an unprecedented bringing together of different parts of the education system, including schools, local officials and universities.
It is responding to an unprecedented challenge.
The Okuma Junior High School had been in the immediate vicinity of the nuclear plant and had to be relocated to Aizu Wakamatsu City.
The local school superintendent, Mr Takeuchi, says the children from the school have become almost immigrants in their own country.
Japan has an abundance of social bonding between people belonging to the same group, but it is less successful at integrating outsiders, even if they just come from the neighbouring village.
Nevertheless, once pushed out of its comfort zone, Okuma Junior High School has responded by building an environment that is impressively innovative.
It has emphasised creativity, problem solving, judgement and engaging with the local community.
Pollution worries
This approach, different from the traditional Japanese model, has been tried by other schools to tackle real-world issues.
In Date City, in northern Fukushima, teachers are working with their pupils and the community on a problem threatening the livelihood of local farmers.
Rumours about pollution are damaging the sale of food grown here.
Ai, a third-year student, explained in tears how her grandparents had to bury their persimmon fruit, their lifeline, for the second year because the crop couldn't be sold.
Mr Kakuta, an enthusiastic teacher at the city's Yanagawa Junior High School, had taken pupils to the Japan Agricultural Corporations Association to learn how such rumours have damaged market prices.
The students and farmers worked together for a solution, finally coming up with plans for a fruit jelly they could sell.
For the farmers this can mean a new future, and for the students it allows a shift from exam-focused academic study towards practical skills and engaging with the community.
Ivory towers
Japan's research-oriented universities are often still ivory towers and don't have a reputation for engaging with local schools and teachers.
But at Fukushima University, Prof Miura has set aside his own research to help with re-building schools.
He has brought together teachers, local administrators and policymakers. He wants to share a broad range of learning strategies and develop a deeper understanding of how learning happens.
As well as universities, the reconstruction effort has brought together the national education ministry, local administrators and superintendents, schools and also international agencies such as Unesco and the OECD.
Japan has the skills to rebuild the physical infrastructure, but there is an awareness that it can learn from the educational expertise of the rest of the world.
More creative
The lessons from this response to a disaster are being evaluated to see if they can be applied elsewhere in Japan.
Masahiro Kozuki, deputy director-general of the education ministry's lifelong learning bureau, said the ideas that have emerged from Fukushima could be used to design new policies.
This could mean an education system that shifts from reproducing educational content for degrees towards strengthening competencies for life.
It could mean moving from "exam hell" competition towards strengthening social skills and social cohesion.
It could mean switching from education to serve the nation state towards education for citizenship in the local community, Japanese society and the global community.
Fukushima could be a model for innovative learning, moving on from standardisation, conformity and compliance towards ingenuity and initiative.
Earlier this year, Yanagawa school celebrated "risshi-shiki", an ancient coming-of-age ceremony symbolising physical and psychological maturity.
The city's mayor and the school principal spoke of autonomy and independence, of endurance and effort, and about the need for the students to make judgements about what is right and wrong.
The students were listening attentively and everyone - members of the city council, principals from neighbouring schools, teachers and parents - were totally silent when the students handed over letters for their parents expressing their commitment to take on more individual, social and shared responsibilities.
There was no better way to experience the value which Japanese society attaches to education, which remains such a central pillar for the creative reconstruction of its schools.