Mortgage market hit by January's cold weather, BBA says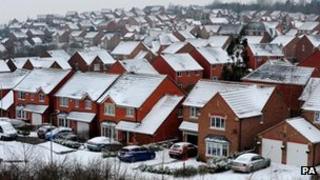 Poor weather in January curtailed mortgage approvals while borrowers continued to play safe on loans and overdrafts, the major banks have said.
There were 32,288 mortgages approved for house purchases during the month, down on December and 14% lower than January 2012.
The British Bankers' Association (BBA) also said that loan and overdraft repayments outstripped new borrowing.
Personal loan levels are almost half of their peak in 2007-08, the BBA said.
"January's severe weather impacted adversely on what was already a subdued picture of borrowing demand from households and businesses," said David Dooks, BBA statistics director.
"While general economic growth stalls, low consumer and business confidence generates a natural tendency to restrain borrowing appetite, repay borrowing where possible and to build up cash and savings as a buffer."
'Caution prevails'
Previous figures had shown a pick-up in the mortgage market at the end of 2012, with increased interest from first-time buyers.
Cheaper deals and greater availability of mortgages as a result of the Bank of England's Funding for Lending scheme (FLS) meant the latest statistics were a surprise for some commentators.
"As with the Council of Mortgage Lenders' lending figures for January, the BBA figures show a more subdued market which might be blamed on the bad weather," said Mark Harris, chief executive of mortgage broker SPF Private Clients.
"We would have expected stronger figures because of the excellent mortgage rates now available as a result of the FLS; it goes to show that we remain some way off a sustained recovery in the housing market as caution continues to prevail."
Recent figures from HM Revenue and Customs did show a slight lift in house sales at the start of the year, although these buyers would have been looking at properties before the bad weather struck.
Repayments of loans and overdrafts outstripped new borrowing by £134m, the BBA figures showed, as individuals took a safety-first approach to taking on new debts in the current financial climate.
A report by pensions and investments company Scottish Widows, also published on Monday, claimed that many people were living on a "financial precipice", with little or no savings to fall back on.
A survey, based on responses from 5,000 people, found that 31% of respondents said they were not currently placing any cash aside, although this was a slightly smaller proportion than a year ago when it stood at 32%.
Only 11% of those surveyed expected the economy to pick up this year and 17% had no money to fall back on at all, the report said.