Boeing 'set to offer plan to fix Dreamliner battery'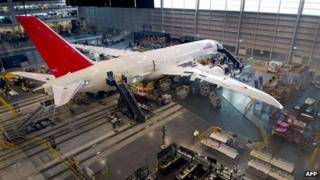 Boeing is expected to offer ways to fix the 787's battery problems at a meeting with the US Federal Aviation Administration on Friday.
Ray Conner, a Boeing executive, will explain measures to prevent future battery failures, according to reports.
Flights could resume by April if US authorities accept the proposed plan, they said.
But Transport Secretary Ray LaHood has warned 787s will not fly again until he is "1,000% sure" they are safe.
Fears about battery safety emerged after a lithium-ion battery in a 787 operated by All Nippon Airways overheated, forcing an emergency landing in western Japan in mid-January and a worldwide grounding of the Dreamliner fleet.
The measures include a battery box aimed at insulating lithium-ion cells from one another in order to prevent their overheating, as well as a venting mechanism for fumes, according to officials who spoke on condition of anonymity.
"The gaps between cells will be bigger. I think that's why there was overheating," one person told Reuters news agency. Boeing declined to comment.
Other faults identified
Meanwhile, on Friday, Japan's transport ministry identified the causes of two fuel leaks on a Dreamliner operated by Japan Airlines, pointing to a coating around the mechanism that controls fuel movement between tanks. That led to a switch not working properly.
Officials also found that faulty taping led to cracks in cockpit glass, while problems with a part led to braking difficulties.
Earlier this week, a separate investigation found faulty wiring of the lithium-ion battery in an ANA Dreamliner jet.
Officials found that the battery for the aircraft's auxiliary power unit was incorrectly connected to the main battery that overheated.
JAL and ANA are the biggest customers of the Dreamliner, with ANA owning 17 of the jets and JAL having seven.
But the fixes presented by Boeing on Friday will not be conclusive, as airline safety inspectors have found no faults with the battery used in the 787. The problems could come from defects in the parts and systems connected to the battery, experts have said.
Japanese authorities in January said they had found no major quality or technical problem with the lithium-ion batteries, which are manufactured by Kyoto-based GS Yuasa.
'Reluctant' to approve
"It's one thing to rule out possible causes [at Friday's meeting] but they need to do more until it is clear what the problem was," said airline analyst Douglas McNeill at Charles Stanley.
"Until it's crystal clear what went wrong, the FAA will be reluctant to let the 787s resume," he added.
All 50 of the 787 jets in service around the world have been grounded since 16 January, after ANA's emergency landing in Japan. Earlier last month, a second battery caught fire in a Japan Airlines 787 parked in Boston.
United Airlines on Thursday removed the grounded Boeing 787 from its flight schedules at least until 5 June and postponed its new Denver-to-Tokyo flights.
LOT Polish Airlines has said it will keep its 787s grounded till October.
Meanwhile, Airbus has scrapped plans to use the batteries in its A350 passenger jet.