Petrol prices: Why are they rising?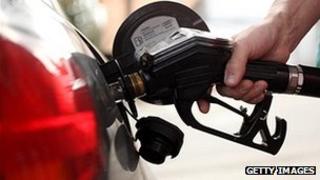 The Automobile Association (AA) is warning that rising petrol prices are forcing drivers off the road.
The group is calling on the chancellor to cancel a planned rise on duty in September.
What's happening with fuel prices in the UK?
They're going up. The average price of unleaded petrol has risen five pence over the past month and is now at 138.32p a litre. Diesel has gone up 4.78p from mid-January to the current average of 145.10p.
However, data from the fuel price monitor Experian Catalist shows that prices have been higher in the past year. Last April unleaded petrol peaked at 142.48p while diesel rose as high as 147.93p.
Why are prices so high?
There's a combination of reasons.
The single most important factor driving up prices is the weakening pound, according to Basil Shrourou from fuelpriceonline.com. Sterling recently touched a two-and-a-half-year low against the dollar. Crude oil and refined products are traded in dollars and therefore become more expensive for British companies when the pound falls.
The other factor is the rising price of oil on the international market, which influences the petrol price. There is no clear reason for the increase. Usually prices rise if supply is tight, such as if there were production outage due to bad weather, but that is not the case at the moment.
They would also rise if demand was up - but that is also not happening. In fact, January figures show that petrol consumption has fallen in the UK.
Will they go up further?
In the short-term the answer is probably yes, although much depends on oil prices and the pound.
Arthur Renshaw from Experian Capital reckons "there is another 2p increase coming through the system".
That is because recent rises in crude oil have not yet fed through to prices at the pumps. The AA warns that they could reach a record by Easter time.
The current government has not raised fuel duty for two years, in fact it cut duty by 1p in March 2011. But a rise is due to come into effect in September - a move that the AA would like to see cancelled.
Chancellor George Osborne pointed out that his government's actions have made it 10p a litre cheaper than it could otherwise have been.
About 60% of the price you pay at the pump goes into the chancellor's pocket, points out Mr Renshaw.
Labour has called for a temporary cut in VAT, saying it would take 3p off the price of a litre of fuel.
It feels like prices are quick to go up and slow to come down. Is that true?
No - not according to the competition regulator the Office of Fair Trading. It launched an investigation into whether petrol companies were too slow to pass on price cuts and found that this was not the case.
Indeed it claimed that the reverse was often true because of competition between forecourts.